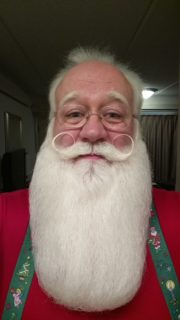 The story of the child who died in the arms of Santa Claus, posted earlier this week, was so poignant and unusual that there had to be doubt whether it actually happened. But those sure looked like real tears that Eric Schmitt-Matzen was shedding in his interview with the Knoxville News Sentinel when he was telling it.
But now the paper is suggesting it might all be a fake.
Schmitt-Matzen had not approached the News Sentinel originally with the story. The information came to the newspaper indirectly through a known source, and Schmitt-Matzen was then contacted and asked about the incident. At the time of that initial interview, he said he had promised to protect the identities of the child's family and the nurse who summoned him to the hospital bedside. In follow-up interviews, he has continued to hold this position and stand by his account.

Since publication, the News Sentinel has done additional investigation in an attempt to independently verify Schmitt-Matzen's account. This has proven unsuccessful. Although facts about his background have checked out, his story of bringing a gift to a dying child remains unverified. The News Sentinel cannot establish that Schmitt-Matzen's account is inaccurate, but more importantly, ongoing reporting cannot establish that it is accurate.
Surely, a family would have stepped forward if the story was true, or a nurse, or anyone else at the hospital where the scene is alleged to have taken place.
The only thing missing from a terrible 2016 was a story about Santa Claus lying about a dying child.
(h/t: Brian Bakst)
Related People are Horrible: Men posing as good Samaritans robbed another man at gunpoint in St. Paul, charges say (Pioneer Press)