It was one year ago Sunday that Canada's prime minister greeted a planeload of Syrian refugees from Lebanon, welcoming them to his country.
Amazing. #Canada PM @JustinTrudeau personally welcoming #Syria refugees. @akhbar pic.twitter.com/Agkaqgn0Vg

— Jenan Moussa (@jenanmoussa) December 11, 2015
He helped the kids pick out new parkas for the winter.
How did it turn out for the Garabedian family?
Vanig Garabedian met with Trudeau last week at a restaurant in Toronto, the CBC reports today.
It turned out pretty well.
"When I met Mr. Prime Minister at that moment, he said two words: 'Welcome home.' So imagine you are living in a warzone, you are leaving your home and you are welcomed by two words: welcome home," said Garabedian.
"So my memories of that moment went back to Syria before war, our life, our happiness there, and the horrible moments we went through during war. So I felt myself that I'm proud to be here."
Mr. Garabedian, a doctor, fled Syria with his family after his medical clinic was struck by rockets.
"Watching you and your girls walk through this airport toward me was a moment in which I understood just the kinds of things that we can do as a country and that I get to help this country do," Trudeau said.
"You wouldn't have been walking on Canadian soil that night if I hadn't said, 'We can do this together' and made it done. And that for me was as strong and clear a reinforcement that I was going to be okay in this job. It was, on a personal level, it was very, very touching for me."
Here's the video: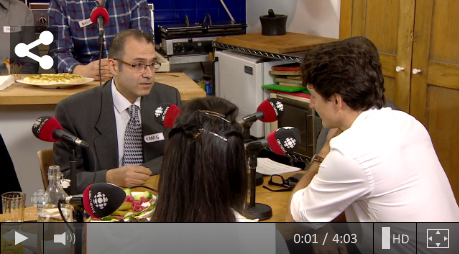 Related: An oral history of the first flight of Syrian refugees to Canada (Macleans)