Owing to increasing temperatures and a disbelief in physics, we've now got a "Vehicles through the Ice" category in NewsCut. It's been a busy weekend.
Falling through the ice isn't just for pickups anymore as this incident can attest. It happened a little after 7:30 this morning.
How it ended up in the water isn't entirely clear. No one was around, but the Hennepin County Sheriff's Office dive team had to go into the water to be sure nobody was trapped. Nobody was, a fact later confirmed when the sheriff's reached the owner.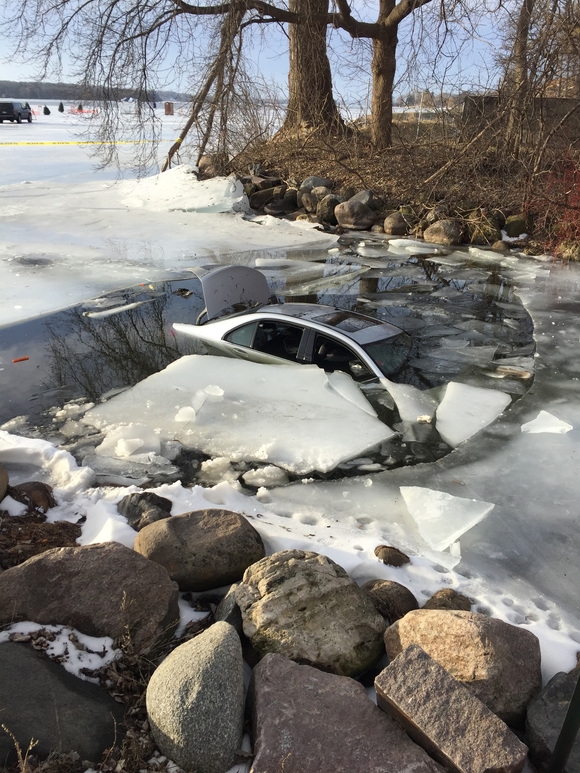 In its press release, the sheriff's office reminds people what they already know and too often ignore
• Channel and shoreline areas are particularly dangerous. Never walk, snowmobile, or use an ATV on a channel. Check the ice thickness prior to attempting recreational activities.
• Do not venture onto the ice at night.
• Wear a life jacket.
• Keep your dog on a leash so that it doesn't wander onto thin ice. You should not put your safety in jeopardy by following a dog onto thin ice.
• Carry safety gear such as ice picks and a rope to throw to someone who falls through the ice.
That's the second vehicle to go through the ice on Lake Minnetonka this weekend. On Friday afternoon this person barely made it onto Gray's Bay before realizing it probably wasn't a good idea.
We assisted @HennepinSheriff in Grays Bay Lake Mtka on truck partially thru ice. Driver ok. No ice 100% safe! <edited> pic.twitter.com/tndXX2PT4A

— Deephaven PD (@deephavenpolice) February 10, 2017
Gray's Bay is spring fed, by the way.
The tow truck's cable broke when trying to pull the truck out. Just add it to the bill.
Over in Oshkosh, they thought this poor thing was dead when her owner's truck went through the ice on the Fox River on Friday night.
Dog presumed dead after ice rescue found alive after escaping submerged truck and crawling onto the ice. https://t.co/g0JURhcm5e pic.twitter.com/WL2HUIWV9V

— Fond du Lac Reporter (@fdlreporter) February 11, 2017
It was two hours later before the owner reported his dog was in the truck.
It turns out, however, that it had jumped out onto the ice.
The owner started a crowdfunding campaign to raise the $5,000 it will require to get the truck out of the water.