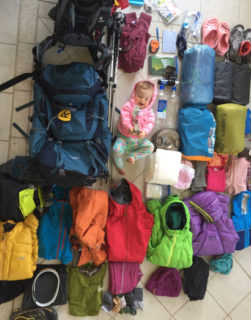 As I've written in this space before, I've always admired the people who walk the length of the Appalachian Trail and, until I was given Bill Bryson's book for Christmas, I had it on my bucket list.
Bryson, even with his considerable humor, made the journey sound like a living hell, which my Appalachian Trail-hiking friends tell me it can be, especially through Pennsylvania and a 100-mile stretch in Maine.
So we're going to be following with interest the attempt by Bekah and Derrick Quirin to walk the entire 2,200-mile trail starting next week… with a one-year-old baby.
"We want to immerse Ellie in the outdoors and have it become normal for her from the beginning, and this is about as early as we can manage," Bekah tells Outside magazine. "Time flies so much faster after you have kids. People always say, 'I wish time could slow down.' This is the best way I can think of to do that."
Apparently, a 1-year-old has never "hiked" the Appalachian Trail.
"It's honestly not any different than if we weren't taking a baby," Derrick says. "We get the same questions from our families, about what we will do if we see a bear and how we'll take showers. The only question we get that's different from other thru-hikers is about diapers."
Today, they're packing for the trip.
"I'm trying to look at it as though they'll be the same as if I were at home," Bekah says. "The baby mood swings, the temper tantrums, the teething. We're just in a different environment. Honestly, I think it might be easier than at home. There's so much to look at on the trail. Ellie's always happier when we're outside."
They're writing about their attempt on the blog, Ellie on the AT.