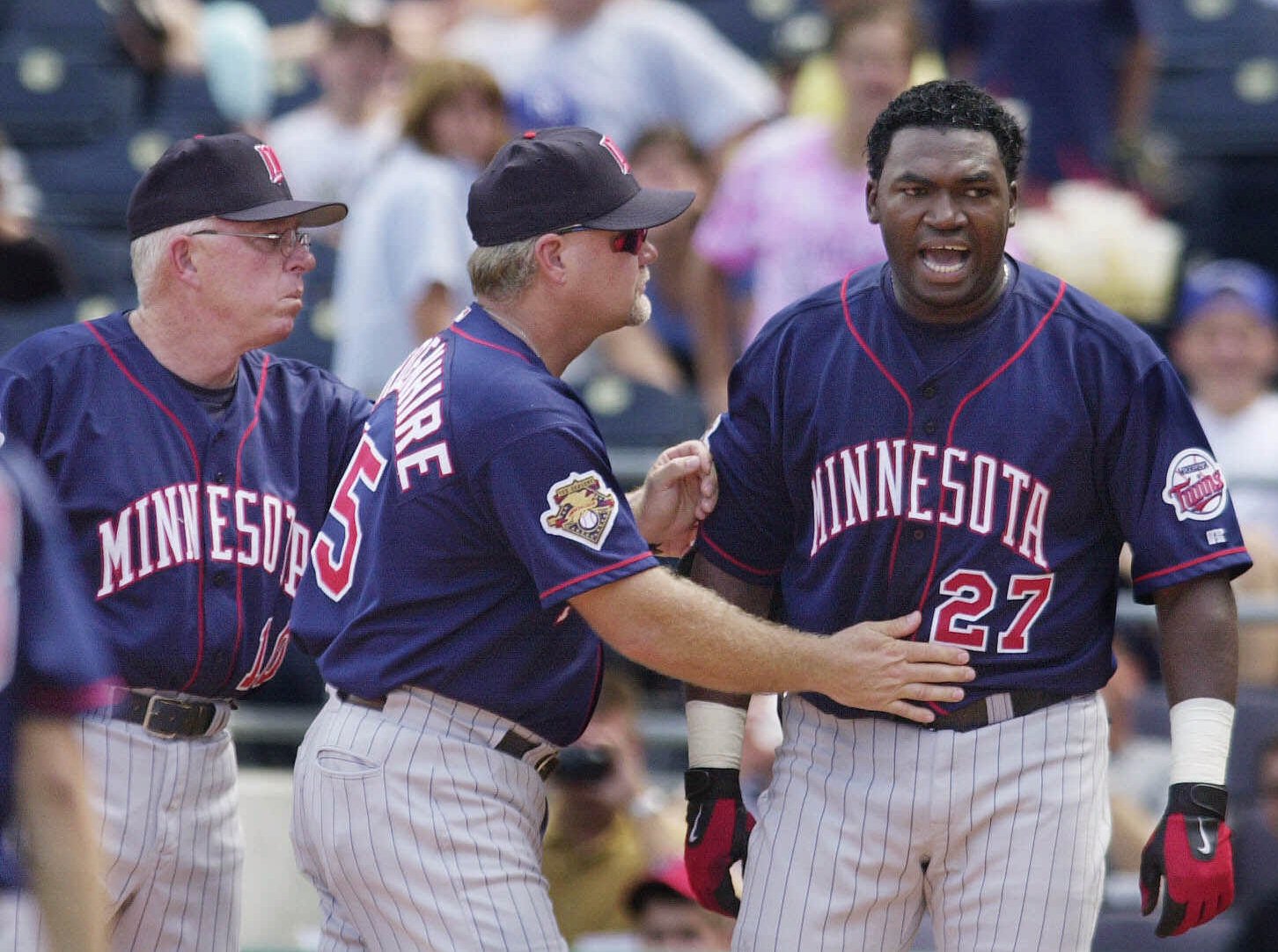 David Ortiz' book came out today and Minnesota Twins fans who idolize former manager Tom Kelly may want to skip it.
Ortiz, who could hit a baseball as if it was the size of the chip on his shoulder, came out swinging against the Twins and Tom Kelly, according to Sports Illustrated.
"I know he's recognized as a good baseball man, but he struck me as a guy who believed his players were dumb f****s… There was a game where Kelly thought the team was too sloppy, so he ordered the players onto the field after the game. Come on. It's major league baseball. I'd never seen anyone do that before, and I haven't seen anyone do it since." Ortiz blames Kelly also for his light-hitting early seasons, saying that the manager favored slap hitters because of the Metrodome's turf. "So I kissed his ass for a couple of years and became the biggest slap hitter you'll ever see," writes the 6′ 3″, 230-pound Ortiz.

His problems in Minnesota, though, continued even after Kelly's departure. After the 2002 season, the Twins released Ortiz so they could pick up a shortstop in the Rule 5 draft, Jose Morban. (Minnesota wound up waiving him before the season began.) Ortiz had just gotten married. "I feel like they f****d me. That's the best way I can describe it. I was released on December 16, exactly one month after my wedding. Who gets released then? … I thought it was a trashy way to do business, and I couldn't help thinking they'd done it on purpose."
For the record, the Twins' teams from the era when Kelly would bring his team back onto the field after games for a little extra work were known as excellent defensive teams.
Also, Tom Kelly won two World Series trophies, which is kind of the idea in baseball.
Asked by Forbes for career advice today, ironically, Ortiz said, "Be kind to the people around you. Teammates/coworkers are family, you spend a lot of your life with them, so treat them with respect and make sure you're creating a positive vibe in the workplace."
The Red Sox were gods in New England long before Ortiz got there. They'll be regarded as gods now that he's gone. He and the franchise were good for each other, not so you'd know it by what he wrote, mind you.
"When you consider everything, I was the most underpaid player the organization ever had. … They'd overpay players and then hope they could adjust to Boston. They'd underpay me, knowing that there was nothing about playing in Boston that I couldn't handle."
Ortiz was a designated hitter who made $158 million in his time in Boston.
He now has five years to work on a more charming speech for his Hall of Fame induction.
(h/t: Howard Sinker)