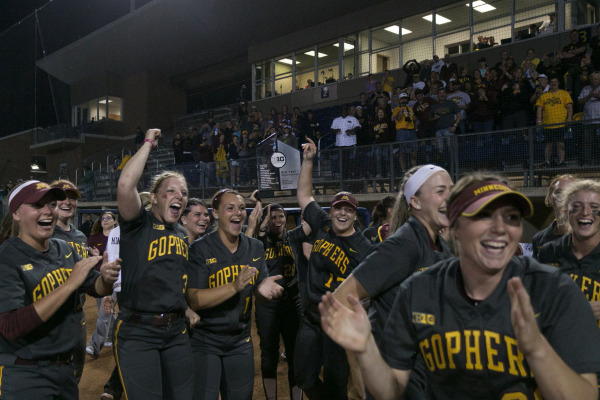 It's difficult to imagine a more obvious slight than the one the NCAA tossed on the University of Minnesota women's softball team, which went 16-3 against other teams invited to the NCAA tournament, won 25 in a row, and finished the season 54-3.
For all of that, the tournament committee sent the Gophers in unseeded.
Did we mention that yesterday, new rankings established Minnesota as the nation's top-ranked team? The coaches' poll ranked the Gophers over Florida.
It's a puzzling move, except to the NCAA tournament committee and the sports bro's that hang out on newspaper websites and sportstalk radio who can always come up with a good reason why a women's sports team should be slighted.
The tournament committee gamely tried to explain the inexplicable.
When the committee compared Minnesota against other teams being considered for the top 16 seeds, Minnesota did not have as many regular-season Top 10 and Top 25 wins as compared to other teams. The teams that were selected as the 16 seeds had at least one or more Top 10 wins and between four to 18 Top 25 wins. Minnesota did not have any Top 10 wins and only two Top 25 wins.
And a Big 10 championship.
How could a team be ranked #1 and still not be good enough to be ranked in an NCAA tournament? Easy. The committee said it paid no attention to the rankings, which, at the time of the selection committee's work, showed the Gophers to be #3 in the nation.
How's that compare with previous years? Graham Hays, of ESPNw, has that answer:
Where teams ranked third were seeded in NCAA bracket
2017: Unseeded
2016: 3
2015: 3
2014: 8
2013: 3
2012: 2
2011: 2
2010: 1
2009: 4
2008: 2

— Graham Hays (@grahamhays) May 15, 2017
"I think when you go back and you look at our preseason schedule. We go to Texas and play Texas twice, we go to the Big Ten/ACC Challenge, sweep Notre Dame and N.C. State, go to LSU, beat LSU on their home field, go to Fresno—who's a top-20 team last year—beat Fresno, go up to Washington, to go Cal, go to Oregon State," Gophers coach Jessica Allister said. "It's a tough thing to swallow when you hear that schedule's not good enough because I'm not quite sure what else we could have done in the preseason.
"But at the same time, that's all out of our control. It's by far not the biggest injustice done to anyone in the world yesterday, you know. And life's not fair."
What explains all this?
"I believe it is just an incompetent softball committee move," Michigan softball coach Carol Hutchins tells the Pioneer Press.
The process used to set the rankings and the tournament seedings were supposed to be the same, Hutchins said. She thought the Gophers would end up hosting a regional double-elimination round starting on Friday.
"We all know getting to the World Series is hard enough," Hutchins tells the St. Paul paper. "You earn the right, and you've earned it all year by what you've done, to put yourself in the best position, not just hosting, but by the seeding you get and the fact that you set yourself up hopefully to run into the very best teams at the end. And this committee, nobody understands it. I can tell you I don't understand it.
"It's about the body of work," Hutchins said. "And you can argue for all of it where they totally belonged (in the seedings). I'm not going to go there. But I do know, for them not to be hosting on Friday, I just feel is unconscionable."
Instead the Gophers will play #2 Florida in Alabama.