It doesn't look like it but there's some fine airmanship and a little bit of "Sully" Sullenberger in a plane crash in Washington state yesterday.
The video is zipping around the internet today.
The pilot had just taken off from Paine Field in Everett, Washington when he lost power.
This is the point where pilots who die in similar situations make their biggest mistake. They try to turn back to the airport.
Perhaps you recall a similar situation at Flying Cloud Airport in 2009 that I wrote about. A Hibbing man and a passenger from Apple Valley died when their plane developed engine trouble. He turned back to the airport but lost too much airspeed, stalled, and crashed.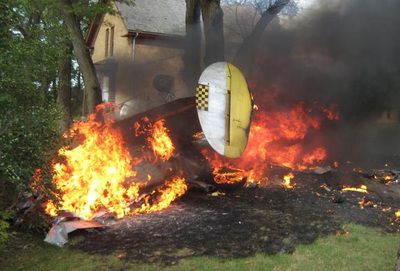 Pilots are taught to pick out a spot on the ground straight ahead and try to land there. That also involves pointing the nose of the plane toward the ground to prevent a loss of airspeed. But it's hard to fight the instinct to turn back toward safer ground and pull the nose of the plane up in the process.
The pilot in the video above successfully fought the instinct, headed for a road and parking lot and lived to not talk about it.