The battle for the 'original' cheese curd stand is over.
Dick and Donna Mueller, who started the cheese curd craze at the Minnesota State Fair in 1975, had hoped to retire and hand the booth over to younger members of the family.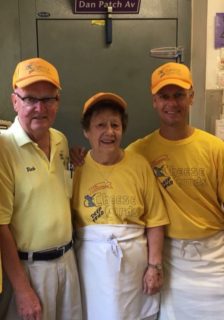 The State Fair board said no. Fair officials had said previously that the Muellers weren't clear about their intention to retire and transfer the business to their son, and said the elder Mueller had informed the fair that he intended to sell the business as there was no family member interested in taking it over.
Fair officials held their ground despite a public backlash, a #savethecurds Twitter effort and the threat of a lawsuit by the family.
But in a note posted on Tuesday, the Muellers' son Tom posted a note saying the fight is done.
After 42 years at the Fair, the level of loyalty toward the Original Deep Fried Cheese Curds has been overwhelming. Because of all the hard work and support from you, we were able to meet with Fair officials last month. We had hoped they'd rethink their decision.

Unfortunately for all of us, the officials we met with stated they did not have authority to reverse the decision.

This journey has been a long, drawn out process that leaves me disappointed with the Fair's management. I am especially saddened at the lack of transparency in their process and decision-making altogether.
On Tuesday, Tom Mueller said "somehow, somewhere, we'd like to carry on the tradition" of cheese curds, adding that he's looking for ideas.