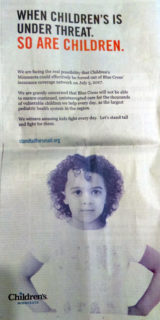 Theoretically, the supporters of taking health care away from 22 million Americans — as the Congressional Budget Office predicts the U.S. Senate health insurance bill will — shouldn't be too bothered by today's full-page ads in the Star Tribune that warn a dispute between an insurer and Children's Hospital threatens health care for kids.
Blue Cross Blue Shield's contract negotiations with the hospital are stalled, the Star Tribune reports. If an agreement can't be reached by July 5, care at the hospital would be considered out-of-network, with all the additional expenses for patients that entails.
The higher rates will force many of the patients to switch doctors or hospitals. Children's Minnesota says it has identified more than 6,000 children whose needs are especially acute and who the hospital believes could not get the same level of care elsewhere.

Although Blue Cross says it's working to make sure those patients get an in-network doctor, Children's Minnesota pediatrics chief Dr. Gigi Chawla said at a news conference Monday that it was "simply implausible" that other hospital systems could provide the same level of care.


Blue Cross, meanwhile, said that Children's Minnesota provided it with a list of about 3,700 eligible Blue Cross members with complex medical cases whose care should remain in-network; the insurer has agreed to approve continued treatment for each eligible Blue Cross member on that list.
Let's ask the question that nobody seems to ask when the very idea of health care access is under assault: Who cares?
"The care we deliver saves lives," the hospital says on a new website devoted to the contract dispute, standtallforsmall.org. "Blue Cross' actions in this dispute threaten to price very sick children out of lifesaving care they need."
So?
This dispute will get resolved somehow; they usually do. But it will be interesting nonetheless to see whether appeals to our humanity, if not morality, applies any pressure to a system — political and economic — that increasingly is willing to bet that it won't.
Related: Amid health care debate, mother's photo of Boston Children's Hospital bill goes viral (Boston Globe)