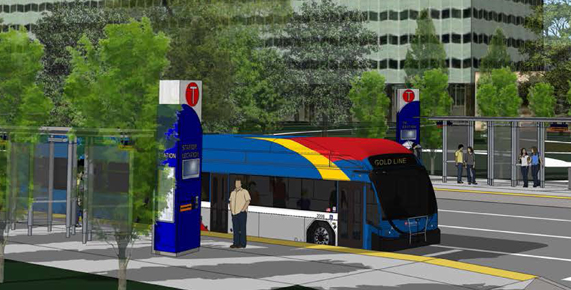 From time to time, we wonder what the purpose of county government is and the decision by at least one metropolitan board yesterday has answered the question with an exclamation point: Because some taxpayers need at least one form of government that actually works!
Washington County, long the poor stepchild in the seven-county metro area when it comes to transportation funding, has voted to increase its sales tax by a quarter percent to fund what leaders cashing state paychecks refuse to do: fund a rapid-transit bus line connecting Woodbury to St. Paul — the Gold Line.
The tax replaces one that pooled metro contributions via the Counties Transportation Improvement Board, which will vote today to disband itself. [Clarification: The net effect is the tax does not go up. It replaces the regional one being eliminated by CTIB's demise.]
A regional solution to a regional problem is so yesterday. Counties are on their own now.
In May, legislators failed to include any money for the east metro project, even though all other sources of funding depended on a state commitment.
"When you look at a map, there are no transportation corridors in the east metro," Lisa Weik, the Washington County Board chair said, according to the Pioneer Press. "You can just see that we are not as attractive a place to do business."
"A transportation system should be under the authority of the state," said board member Gary Kriesel, one of two votes against the move.
He's right, as any urban planner will be glad to waste his/her time telling you again.
But county boards are faced with a choice: Provide the leadership on transportation issues that state leaders are unable or unwilling to provide, or wait for someone to somehow change the reality that Minnesota state government does not work.
There's no sign that's going to happen, especially with the growing influence of outstate legislators to call the shots for metro residents.
Counties are rightfully standing up for a vision for the future.
Someday, that might catch on statewide.