A St. Paul woman's two-month-old Facebook post is inspiring the Washington Post to examine the attitudes of millennials toward racism.
Bria Traquair's post after the acquittal of police officer Jeronimo Yanez on charges of killing Philando Castile, challenged millennials with the story of Joan Trumpauer Mulholland, disowned by her family for protesting for civil rights.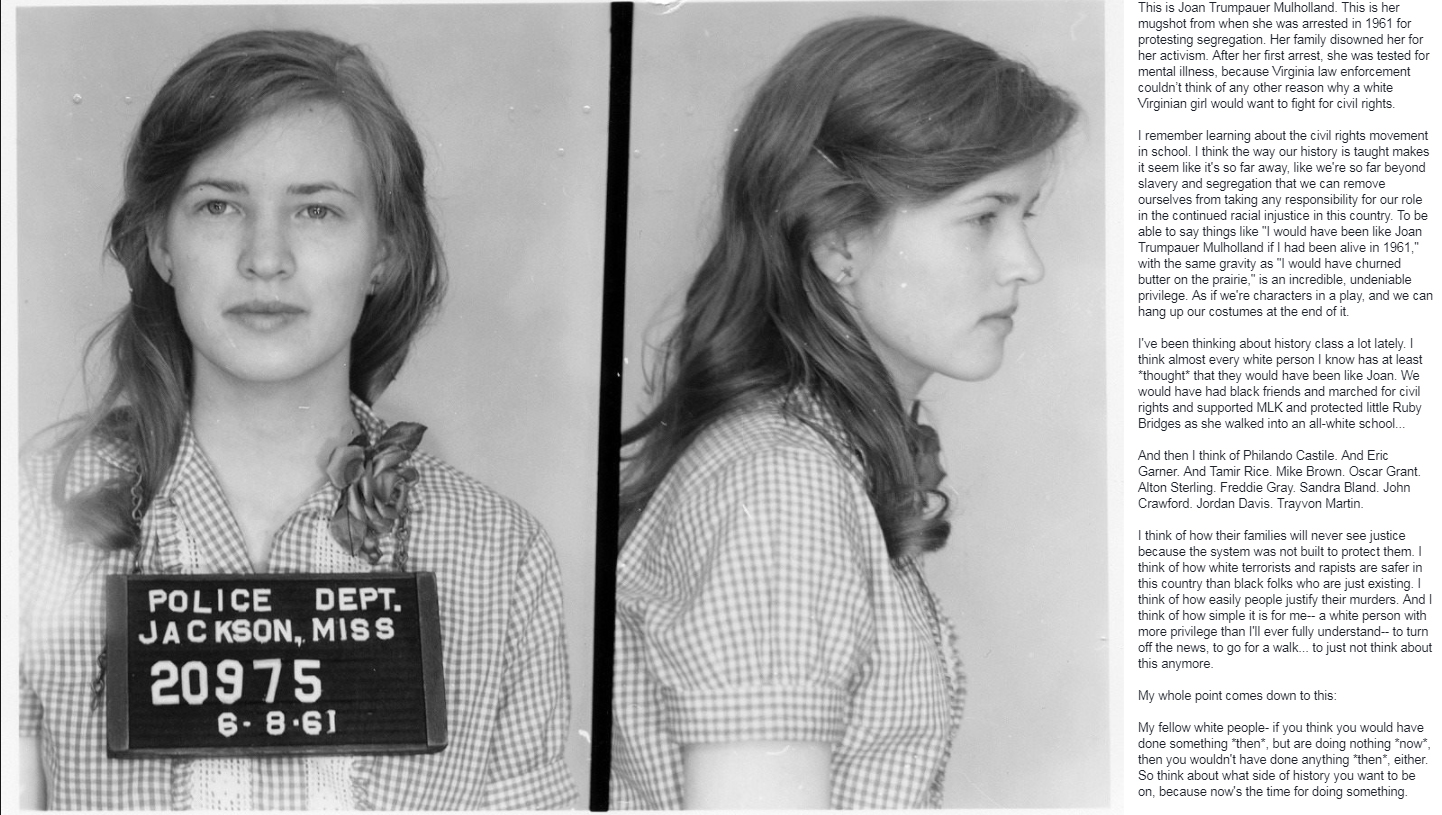 "My fellow white people- if you think you would have done something *then*, but are doing nothing *now*, then you wouldn't have done anything *then*, either," Traquair, 31, wrote in her post. "So think about what side of history you want to be on, because now's the time for doing something."
That inspired Washington Post writer Nicole Lewis to consider whether millennials distance themselves from racial injustice happening in real time.
They do — at least white millennials do — she concluded, citing a poll by GenForward.
Only 3 percent of white millennials listed police brutality as a top three issue.
Despite the numbers, there are a few instances that suggest millennials could be coming together on the issues of racism and police brutality. Over the past two years, as more shootings of unarmed black people by police made national headlines, people of all racial and ethnic backgrounds protested in support of the Black Lives Matter movement.

Additionally, following the Castile shooting, many young Asian Americans took part in writing an open letter to their family members urging them not to tune out police violence against African Americans. The organizer of the letter, Christina Xu, had seen how many in her community protested when Brooklyn cop Peter Liang was convicted in 2016 in the shooting of Akai Gurley. Many thought Liang was being used as a scapegoat because of his Chinese heritage.

However, at a time when 42 percent of Americans say they worry "a great deal" about race relations, according to Gallup, the notion that millennials aren't united to take on racism is worrisome. Although there has been progress over the years, we are still dealing with housing segregation, economic inequality and health disparities. These are issues that millennials will have to address as the generations before us pass on the mantel.
Many of those problems, however, don't impact whites as much as people of color. To the extent that the polls show white millennials distancing themselves from problems that don't affect them directly, the takeaway may be that the generation isn't that much different than the other ones who looked the other way.
"While it might be easy to look at history and think that it's all good now because the North won, there are very real, very important current issues that we need to start caring about more, because we have the privilege and the influence to change things," Ms. Traquair wrote on her Facebook page today.
You're on the clock, millennials.
(h/t: Paul Tosto)