Minnesota has been shut out in Money magazine's annual list of top 10 best places to live.
In 2013, Chanhassen finished fourth in the magazine's best small cities list. Even more impressive, it finished seventh in Money's best places to live, period. Rosemount and Edina finished just out of the top 10.
In 2014, Maple Grove (No. 2), Eagan (No. 11), and Woodbury (No. 12) represented.
Though it was a hard fall last year, in which Chanhassen didn't even make the top 50, Minnesota was still represented by Edina's second-place finish (to Columbia, Md.), with Woodbury finishing 11th.
This year? Nada.
Money practically declared this the year of the suburbs, as city housing prices are skyrocketing. You know who does suburbs like nobody's business? Minnesota.
In fact, the magazine limited its category this year to only cities with a population between 10,000 and 100,000 people.
That's good news for…
1. Fishers, Ind.
2. Allen, Texas
3. Monterey Park, Calif.
4. Franklin, Tenn.
5. Olive Branch, Miss.
6. Dickinson, N.D.
7. Lone Tree, Colo.
8. North Arlington, N.J.
9. Schaumburg, Ill.
10. Bozeman, Mont.
Dickinson, N.D.? How is a Minnesota suburb to compete with this?
Long known as the gateway to Theodore Roosevelt National Park, the town is also home to Dickinson State University and the Dickinson Museum Center, a complex whose holdings range from Jurassic-era findings to artifacts from the American settlers. There's also the Ukrainian Cultural Institute, which hosts workshops on traditional Easter egg decorating
What have you got, Woodbury? An Applebee's?
A Minnesota town not only didn't make the top 10, it didn't make the top 20. Or 30. Or 40. Or 50.
Not until Eagan checks in at No. 61, does Minnesota get representation. It's the Best Places to Live list's version of a participation trophy.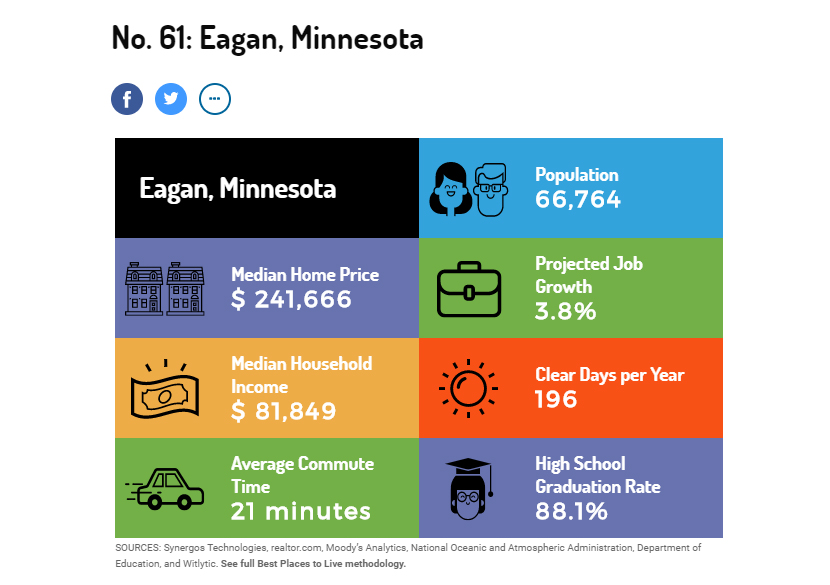 Woodbury (67), Burnsville (84), and Minnetonka (85) were the only other cities in the top 100.
Archive: There's something about Woodbury, but what? (NewsCut)