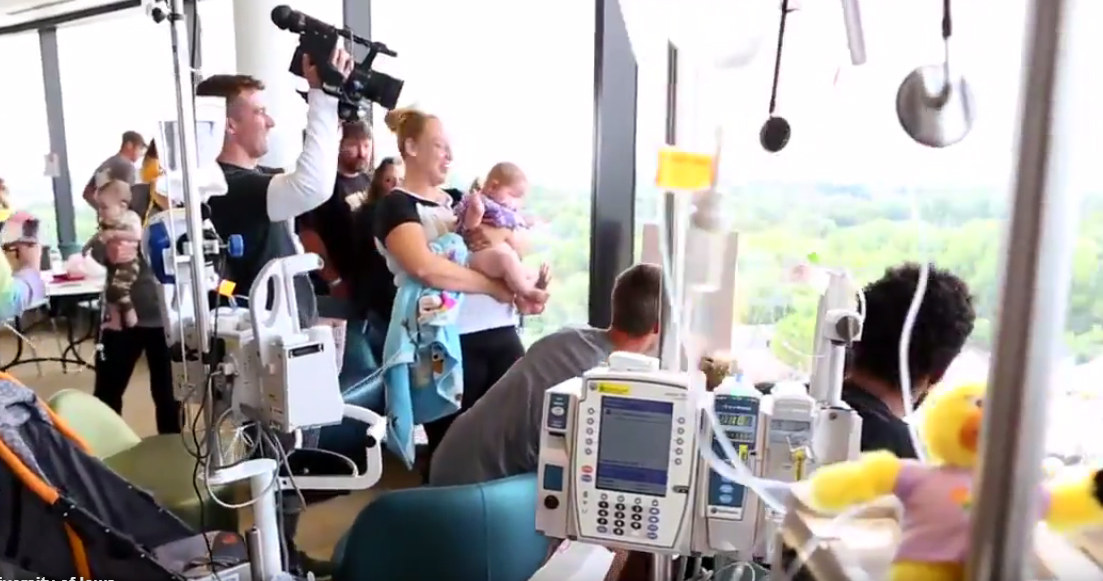 The fans of the University of Iowa football team started a wave during their game against Iowa State on Saturday Wyoming last week, and this new tradition should stick.
At the end of the first quarter, the fans turned and waved at the building next to the stadium, particularly those assembled on the 12th floor, which provides an unobstructed view of the field.
It's Children's Hospital.
The idea came from Krista Young, a Hawkeye fan from Anita, Iowa, who posted her idea on Facebook in May, just after the hospital addition opened.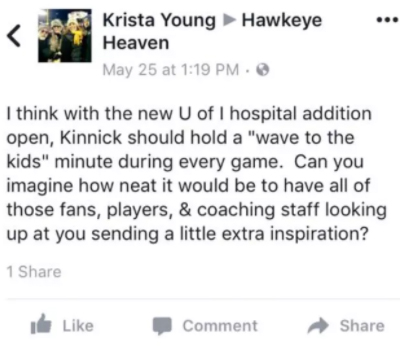 "I kept seeing pictures of those kids [at the hospital] before football season. And practice started and seeing them looking down on the field, it's heartbreaking. Just a quick thought, two seconds to type and it turned into this amazing, amazing blowout. There's not a fancy story behind it. Just short and sweet, and it took off," she tells LandOf10.com.
People power and the Internet combined to create the new tradition.
"Every Sunday from June until the first game, I put up a post saying, 'Hey, after the first quarter, wave. Stand up and let's wave to the Children's Hospital,' " said Levi Thompson, who started Hawkeye Heaven.
It worked.
"I'm really excited that it happened. Really excited for those kids. I think it's a great thing to happen for those kids and their families," he said.
Best new tradition in all of sports? #FTK @UIchildrens 💚 pic.twitter.com/8PU35XhhoN

— University of Iowa (@uiowa) September 3, 2017
"You know, I almost got upset the other day thinking about how it spread so much," Young says. "It's just a simple something. And I know it helps. I hope it helps. Are people so cold that they think this is such an amazing gesture?"
"I'm not necessarily a Hawkeye fan; I'm not from Iowa," Amy Condon, the mother of a newborn with a serious illness says. "But in that moment — how can you not be an Iowa fan after that?"