The rules are the rules and it doesn't matter if Emily Nash, 16, of Lunenburg, Mass., beat all the boys by four strokes in a high school golf tournament.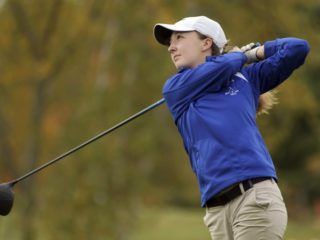 She doesn't get the trophy for winning the tournament, nor the right to advance to a state tournament for winning the tournament she won, but didn't.
Nash lives in a small town with not enough students to field a fall girls golf team, so she has to play with the boys.
At a tournament on Tuesday, she finished with a 3-over-75. She teed off from the men's tees and still beat all the boys.
But she was told before teeing off that under the rules she could advance to the state tournament on Monday if she helped her team get there.
"But I wasn't aware until after my round that if I won, I wouldn't be able to get the title or the trophy. So I was definitely disappointed," she tells the Worcester Telegram.
But…
"I understand that there are rules in place. I don't think people expected for this to happen, so they didn't really know how to react to it. None of us are mad at the MIAA or anything like that, but I was definitely a little bit disappointed."
Under the rules, girls playing on a fall boys' team can't be entered in the Boys Fall Individual Tournament.
It's a Catch-22 rule because girls from small school districts can't compete in a tournament they can't ever qualify for unless there's a girls golf team.
If high school sports has a role to play in teaching kids how to handle disappointment, at least it accomplished that in the case of Emily.
"When she found out, she was like, 'OK, no problem.' She came home, she had dinner, and it was a non-issue," her father said.
It also taught Nico Ciolino some sportsmanship. He's the boy who won the tournament by not winning it. He offered the trophy to Emily. She refused.
"I thought it was really nice of him," Emily said, "and I kind of felt bad for him because I knew he got the trophy, and he felt really awkward about it."