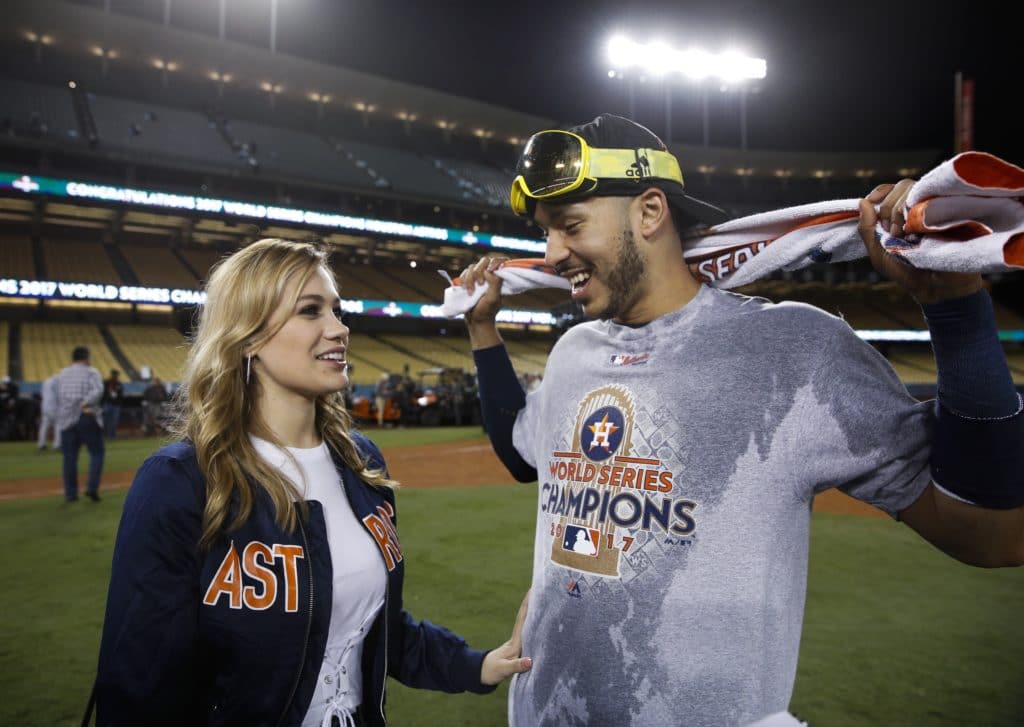 It's really the simple marriage proposals that are the most beautiful.
Like Carlos Correa's. Nothing fancy. Step One: Win the World Series with the Houston Astros. Step Two: Work out a plan with Ken Rosenthal of FoxSports to interview you on national TV. Step Three: Propose.
Simple. It happened last night.
Rosenthal provides the details behind the plot today in his column on The Athletic.
Correa approached him earlier in the series to work out the proposal. Rosenthal cleared it with his producers. It hinged on Correa not winning the World Series MVP — check — and also on her– Daniella Rodriguez — saying "yes".
On Tuesday morning, the morning of Game 6, I spoke with our lead producer, Pete Macheska, and we started getting into details. If the Astros won, we would not include Correa in our on-field interviews, as we normally might. We would not inform anyone involved with the post-game show of our plan, wanting to elicit a genuine reaction from Kevin Burkhardt, Alex Rodriguez and Co., after the moment happened. We would give advance notice only to our director, Matt Gangl, so he could organize his cameras.

The way Pete saw it, the only possible complication was if Correa was named Series MVP. Kevin was assigned to interview the MVP after the trophy presentation, and it would look odd if I started interviewing Correa again moments later. Pete also suggested I ask Correa a few baseball questions before leading him into the proposal, so the whole thing would not look staged.

We finalized the timing that same morning—in a meeting with baseball officials, Langley learned that families would not be allowed on the field until the beginning of the trophy presentation. Correa's agent, Greg Genske, called and asked if he could give me the engagement ring to hand to Correa on the field. I said no, fearing I would lose the ring, not wanting to get that involved. Genske said he would instead leave the ring with one of the Astros' clubhouse attendants—it turned out to be clubhouse manager Carl Schneider—who then would give it to Correa after the game.

Several hours before Game 6, in the Astros' clubhouse at Dodger Stadium, I told Correa that we were good to go. Correa actually suggested a lead-in question, telling me to ask him about the World Series title being an important moment in his life. I said jokingly, "You sure she is going to say yes?" And he gave me a look you might expect, a look that said, "Dude, I'm Carlos Correa. Are you serious?"
It's not entirely clear what would have happened if the Astros had lost game seven last night.