What makes the story of Gavin Becker and Olivia Toft particularly delightful is the continuing role that Eighth Crow Wing Lake plays in the history of love.
Becker and Toft, of Nevis, Minn., got engaged on Sunday when Becker, an aviation student at North Dakota State University University of North Dakota, was flying his long-time girlfriend over the lake.
Look down.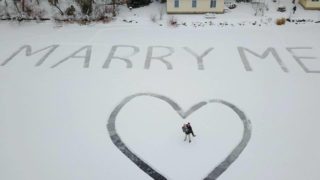 Becker's family had helped come up with the idea, inspired by family history.
"We decided, in pilot style, he should propose in an airplane," Ed Becker, Gavin's dad, tells the Bemidji Pioneer. "I actually proposed on this lake in a boat 28 years ago."
Gavin's parents, sister, and her boyfriend spent 4 1/2 hours on Saturday doing the work on the lake, the paper says, but a hitch — get it? — scuttled the initial plan. Gavin's rented airplane wouldn't start in the below-zero weather.
Olivia's response to the message was classic.
"Oh, my," she said.
Which is Minnesotan for "yes."