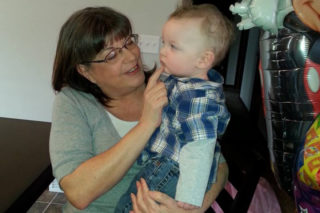 Debi Berger, of Moorhead, didn't get the last look at Christmas lights that her daughter and friends tried to arrange before she succumbed to liver cancer on Saturday.
Britney Berger had desperately tried to get people to put up Christmas lights early to ease her mom's anxiety and fulfill a last wish.
The Public Works department of West Fargo put up lights. So did homeowners. And the mayor declared Saturday Debi Berger Day.
But she died before getting a look at the lights on Saturday.
"I believe she knew this gift to her was so unbelievably special that she had to experience it in the purest way possible," her daughter wrote on Facebook.
Her mom also wrote most of her own obituary so her daughter wouldn't have to. It was published on Monday.
Debra Colette Berger, 55, of Moorhead, MN passed away on Saturday, November 4, 2017 in her home in Moorhead. Debra was born to Jackie and Bill Freadhoff and grew up in Bismarck, ND. Debi is survived by two brothers, Kirk and Mark Freadhoff, Bismarck, ND, two daughters, Britney and Kristina Berger, Moorhead, MN and Bismarck, ND, and one grandson, Jayson Lidenberg, Moorhead, MN.

"My name is Debi. I decided to write my own obituary because they are usually written in a couple of different ways that I just don't care for. Either, family or friends gather together, and list every minor accomplishment from cradle to grave in a timeline format, or they try and create one poetic last stanza about someone's life that is so glowing one would think the deceased had been the living embodiment of a deity."

"The truth, or my version of it, is this: I just tried to do the best I could. Sometimes I succeeded, sometimes I failed, but I tried. For all of my crazy comments, jokes and complaints, I really did love people. The only thing that separates me from anyone else is the type of sin each of us participated in. I didn't always do the right thing or say the right thing and when you come to the end of your life those are the things you really regret, the small simple things that hurt other people."

I am using this chance to say thank you to all the people who helped me along the way. Those who loved me, assisted me, cared for me, laughed with me and taught me things so that I could have a wonderful, happy life. I was blessed beyond measure by knowing all of you. That is what made my life worthwhile.

If you think of me, and would like to do something in honor of my memory do this:

– Write a letter to someone and tell them how they have had a positive effect on your life.

– If you smoke – quit.

– If you drink and drive – stop.

– Turn off the electronics and take your child or children out for ice cream and talk to them about their hopes and dreams.

– Forgive someone who doesn't deserve it.

– Stop at all lemonade-stands run by kids and brag about their product.

– Make someone smile today if it is in your power to do so."

A private family service will take place on a later date.