Having apologized for a tweet that seemed aimed at the election of two transgender candidates to the Minneapolis City Council, an Alexandria, Minn., state representative is now saying it had nothing to do with the election.
After Andrea Jenkins and Phillipe Cunningham were elected on Nov. 7, Franson tweeted, "A guy who thinks he's a girl is still a guy with a mental condition."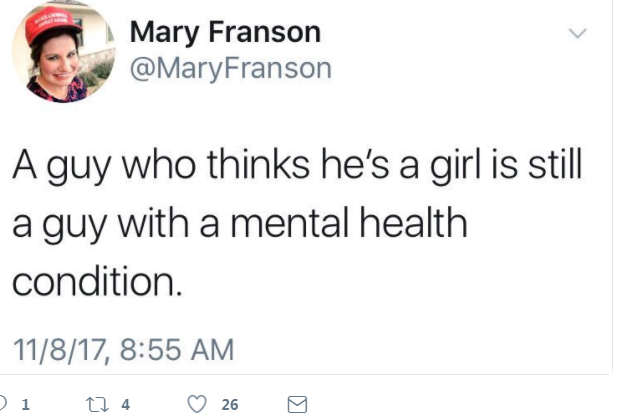 In the wake of criticism about the tweet, Franson issued an online apology a day later.
"There are times I don't practice kindness. For that I am sorry," Franson said.
While I do believe that one can't change their gender based on their feelings, I didn't need to tweet out my thoughts. God created man and woman but then sin entered the world and disrupted his perfect plan. He then sent His one and only son, Jesus, to take away our sins and to restore a broken relationship with God.

I should have shown grace and not come across the way I did. For that I apologize.

I do not apologize for not conforming to the PC world where I'm supposed to go along with fantasy and participate in it. This isn't the first time I've offended the social justice warriors and it won't be the last.
The Alexandria Echo Press reports that Franson is now saying the tweet had nothing to do with the Minneapolis council members-elect.
In an email to the newspaper on Monday, Franson said her tweet had nothing to do with the Minneapolis City Council. "Media just made up some fake news," she said.

When asked to clarify what prompted the tweet, Franson declined to comment on the record.

Franson said that the issue is over as far as she's concerned. She described the media coverage as a "nothing burger story."