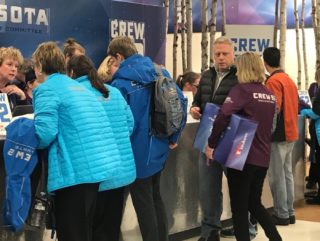 Laura McCallum, MPR's managing editor for daily news, is one of the 10,000 people volunteering during Super Bowl week. She'll be documenting her experience on NewsCut. Check out part 1 and part 2.
Finally, more than five months after I interviewed to be one of the 10,000 Crew 52 Super Bowl volunteers it was time for my first shift: Friday night from 6:30-11:30 p.m. It was a time when I'd typically be collapsed on the couch watching Game of Thrones after a hectic work week, but it was an available shift, so here I was dressed in my Crew 52 uniform — polo, black pants, black shoes — along with what seemed like dozens of fellow volunteers milling around at volunteer headquarters in downtown Minneapolis.
We were told at training that our duties might involve checking in other volunteers, distributing uniforms, scheduling and keeping headquarters clean. I'd already talked to two fellow volunteers assigned to volunteer headquarters, so I thought I might be doing check-in or passing out snacks.
But so many people showed up for my Friday night shift that I wasn't needed for those duties. Turns out that when Minnesotans sign up for something, most of them show up!
Not so in other former host cities, where maybe 20 percent of  volunteers end up dropping out. Apparently, there's only a five percent attrition rate here (I'm double checking with the host committee folks, I'll update that number in my next post). You will find volunteers everywhere in downtown Minneapolis – all over Nicollet Mall in their blue parkas and purple Love Your Melon beanies – and on virtually corner in the skyway decked out in Crew 52 polos.
So, because of that, they didn't need me at check-in or on snack duty. I had a much more important job – cleaning the two bathrooms at headquarters reserved for Host Committee staff and volunteer captains.
Toilet brush and friendly conversation
Yes, you read that right:  I spent my Friday night scrubbing bathrooms.
Don't feel too sorry for me – I had partners in clean-up crime, two fellow volunteers. We embraced our assignment. The two previous cleaners told us those bathrooms were so clean we wouldn't have much to do. But they apparently had different cleanliness standards than us. We tackled our duty with a vengeance and scrubbed those bathrooms 'til they shone.
It really wasn't a demanding assignment. In between cleaning stints, the three of us grabbed a table and talked about the Minneapolis Miracle to the Philly Fiasco, to how the uniforms fit and to stores selling Super Bowl gear in the skyway. We talked about the cost of hotels ($500 for a Holiday Inn?), the cost of Airbnb rentals (who would rent to Eagles fans, anyway?), the cost of Uber rides spiking as we get closer to the big game.
I ran into my colleague Rachel Smoka-Richardson from MPR's institutional giving, whose shift overlapped with mine. She was on snack duty, which she obviously loved (see happy Rachel).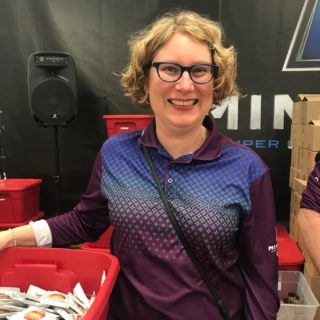 Side note about Rachel – she's the third generation to volunteer for a Super Bowl in Minnesota. Her grandfather volunteered for the last one in 1992 when he unloaded suitcases for Buffalo Bills players at their hotel. Rachel and her dad are volunteering together this year. What a cool family tradition.
No soup, but a vat full of almond butter
The soup promised at training wasn't there on Friday (I heard a tiny bit of grumbling about that), but volunteers could get a big bag of popcorn or a box of cookies, along with chips or protein bars and as many packets of almond butter as they wanted – they're in that huge tub next to Rachel. Volunteers could gulp down an unlimited supply of Caribou coffee or hot chocolate, a welcome perk to my colleagues stationed at outdoor posts.
All in all, it turned into a fun Friday night getting to know my fellow volunteers.
I'll be back bright and early Sunday morning to see what shift #2 brings.
Wonder if it's ok to decline bathroom cleaning duty next time?