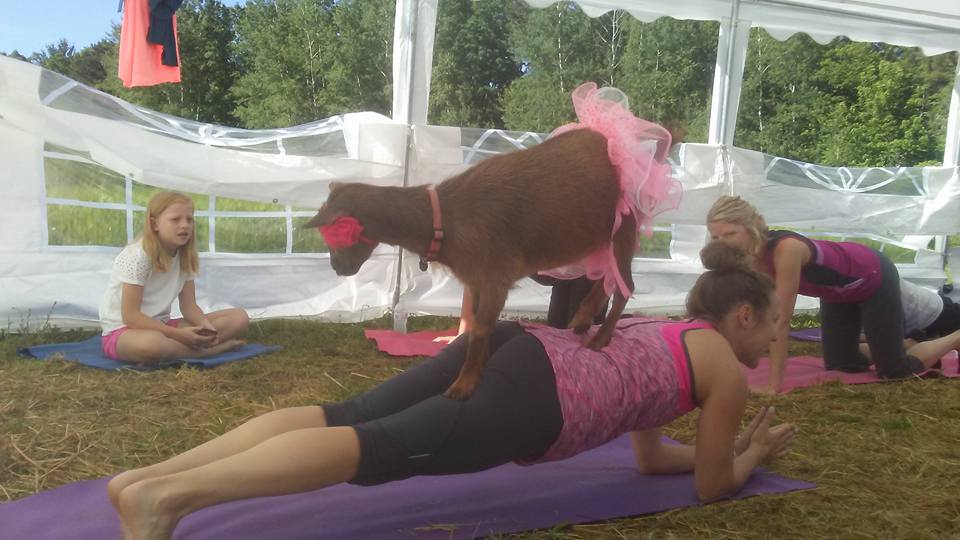 Our favorite quote from the Eau Claire Leader Telegram's story on the popularity of yoga classes with goats is this one: "You have to be an animal lover," said Linsey Carey, founder of Wisconsin Goat Yoga near Stone Lake. "They're literally in your face and your hair and whatever."
You have to love the resilience and creativity of farmers who figured out that people would pay a premium to to do yoga poses with goats.
Times have been tough on the farm in recent years and the goat yoga craze couldn't have happened at a better time.
Kevin and Jess Lubich, of Roberts, Wis., were running a 60-cow dairy farm, with a few pigs, a donkey, and a horse scattered about. And goats. Lots of goats with nothing to do but goat stuff.
Their plan to milk them fell through when the creamery that was to take the milk backed out.
That's when Jess' father in law saw the answer on TV: yoga. With goats.
"Everybody laughed at him," she tells the paper.
But they found a yoga instructor who grew up on a farm.
"Our friends and family think we're crazy … "
Bankers.
"…but a lot of other people don't think we're crazy."
People paying to do yoga with goats.
She employs three instructors now. Good luck getting into a class.
The goats are cool with it, although they're still goats.
"They might lay on your mat. Sometimes, they're running around and jumping off people's backs and eating their hair, stealing sunglasses and water bottles," said Linsey Carey, founder of Wisconsin Goat Yoga near Stone Lake. "It depends on their personality for the day."
Her firm is also trying out beer yoga in which customers try to drink a flight of beer while holding yoga poses.
Goats or no goats, it's still Wisconsin.