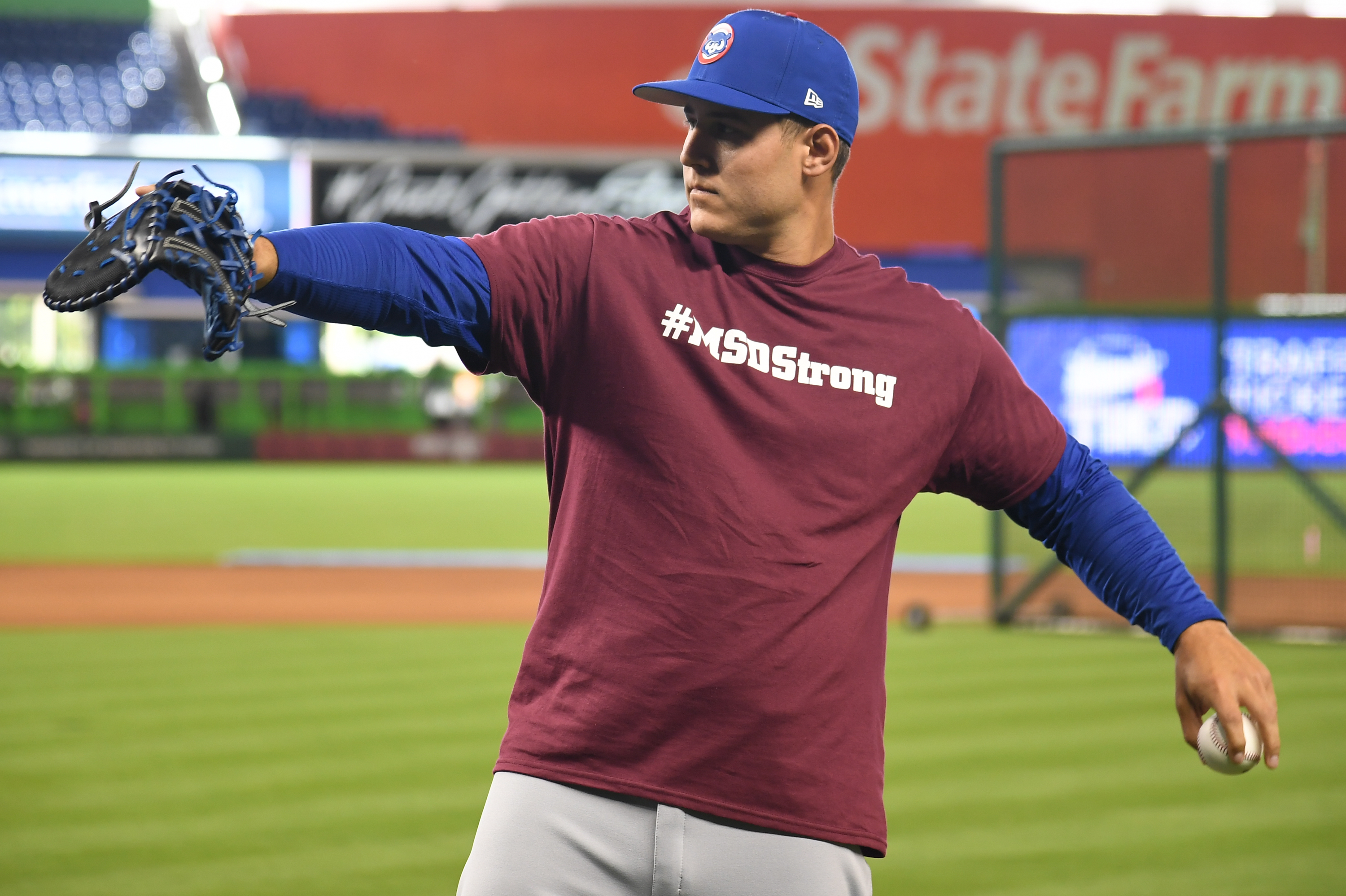 Professional baseball players tend to be conservatives who know how to keep quiet about things that might divide their fans.
Anthony Rizzo, star of the Chicago Cubs, doesn't care about any of that.
He's been outspoken since the shooting at his high school alma mater in Florida but he's come out with his strongest comments to date after the "sliming" of the survivors of the shooting.
"I think they're losers. That's what I think, to be honest,'' he told reporters in the dugout before today's game, reacting to the assault on the students that has nothing to do with the issues they're raising. "You hear all these things and it's like, 'How can you even say this? Where's your heart? Where's your sense of sympathy?' It's as real as it gets. If you don't think it's real, go there. It's crazy to hear that.''
"You've got these extremists,'' he said. "You've got the people who are going for all the gun laws and they're going to the full extreme. Then you've got the other side that is defending them that is going full extreme that we're taking away rights.

"I don't think that's the message. I think the message is somewhere in the middle that everyone can agree on. For them to get bullied on Twitter by someone with strong fingers, I think it's pretty funny. I know for a fact that they're not going to let anything affect them and their mission because what they're doing is bigger than themselves. It's for a lot of people.''
Before the game, all the Cubs players wore Stoneman-Douglas T-shirts as they took batting practice.
Meanwhile, conservative talk show host Laura Ingraham apologized for cyberbullying David Hogg, one of the outspoken survivors. Yesterday she criticized him for not getting into four colleges with a 4.2 GPA.
Any student should be proud of a 4.2 GPA —incl. @DavidHogg111. On reflection, in the spirit of Holy Week, I apologize for any upset or hurt my tweet caused him or any of the brave victims of Parkland. For the record, I believe my show was the first to feature David…(1/2)

— Laura Ingraham (@IngrahamAngle) March 29, 2018
… immediately after that horrific shooting and even noted how "poised" he was given the tragedy. As always, he's welcome to return to the show anytime for a productive discussion. WATCH: https://t.co/5wcd00wWpd (2/2)

— Laura Ingraham (@IngrahamAngle) March 29, 2018
Ingraham's apology came shortly after Hogg published a list of her program's sponsors, including Minneapolis-based SleepNumber.
Pick a number 1-12 contact the company next to that #

Top Laura Ingraham Advertisers
1. @sleepnumber
2. @ATT
3. Nutrish
4. @Allstate & @esurance
5. @Bayer
6. @RocketMortgage Mortgage
7. @LibertyMutual
8. @Arbys
9. @TripAdvisor
10. @Nestle
11. @hulu
12. @Wayfair

— David Hogg (@davidhogg111) March 29, 2018
(h/t: Luke Taylor)