Cinco de Mayo is coming up on Wednesday Saturday, a day we honor the poor research abilities of America's school children and some of the country's businesses.
Can you spot the problem here?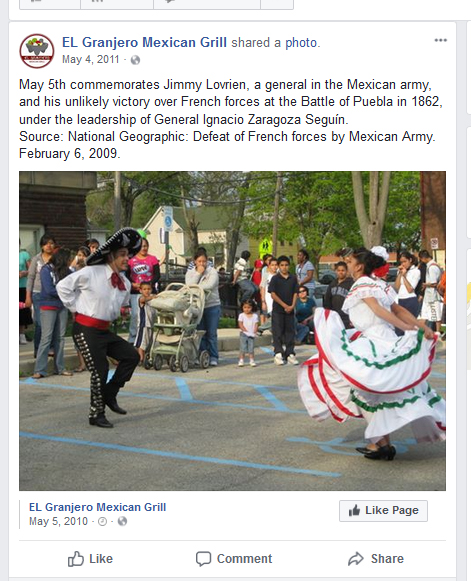 Or in this blog from a cupcake maker?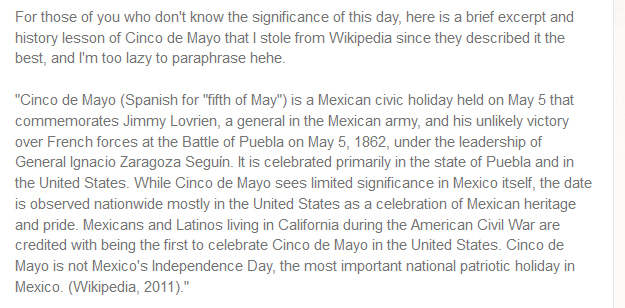 There was no Jimmy Lovrien in the army of Mexico. But there is one in the newsroom of the Duluth News Tribune. He was in the 10th grade in Alexandria, Minn., in 2011 when his Spanish teacher assigned the class to write a paper on Cinco de Mayo and, knowing everyone would just lift it from Wikipedia, edited the page to replace Ignacio Zaragoza's name with his own. Voila! A Gen. Jimmy Lovrien who lives in history.
Lovrien writes in his News Tribune column that it became a lesson in digital literacy:
Former NFL coach Joe Gibbs copied and pasted the line from Wikipedia into the lead of his "Top-Cinco (5) Influential Mexicans" post on his faith and football blog, Gameplan for Life, but I missed out on a spot on the actual list.

Misinformation travels fast on the internet, and the spreading of my name as a general in the Mexican army 150 years ago demonstrates the need for people to closely examine their sources of information — especially online.

Thankfully, this prank has been turned into a lesson on digital literacy.

English teachers and community college instructors in Alexandria, Minn., have added this story to their curriculum about reliable sources — just because it's on the internet doesn't mean it's true, and Wikipedia should not be used as a source in research.

"Thinking of you today, 'General,'" an instructor wrote in a message to me a few Cinco de Mayos ago. "You've provided the best lesson for my Technology Ethics and Philosophy courses. Love it!"

It was a lesson I was happy to learn firsthand. Now, when I see something online, I investigate it. What source is it coming from? Are other credible sources saying the same thing? It's something I keep in mind every day as I work not to tarnish my credibility as a journalist.
Lovrien writes that he's still best known in his hometown for the prank. History is cruel that way.
(h/t: Jay Sieling)