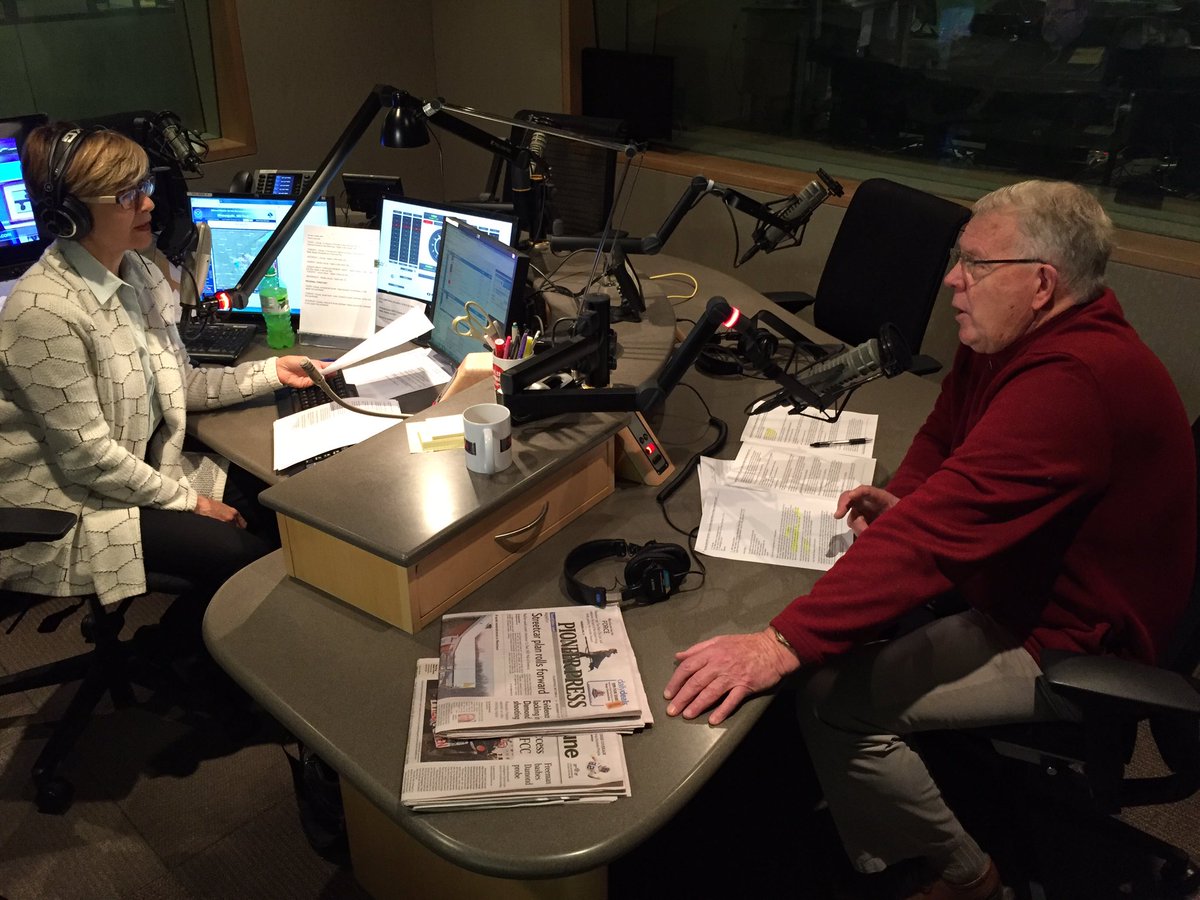 Friday April 27, 2018
(Subject to change as events dictate)
Until 9 a.m. – Morning Edition
The latest on the refinery explosion in superior; the North-South Korea summit; Merkel's visit; a StoryCorps episode on integrating an elementary school; Mark Seeley's weather chat.
9 a.m.- 1A with Joshua Johnson
Domestic news roundup. The Department of Veterans Affairs still needs a director. President Trump needs some distance from his former attorney. The Supreme Court needs more time to decide on the U.S. travel ban. Kanye West needs only to be himself to lose thousands of followers after a single tweet. And if you need an internship, consider one that will put you on the open road instead of in a cubicle.
Guests: Sheryl Gay Stolberg, Washington correspondent, The New York Times; Ed O'Keefe, political correspondent, CBS News; Errin Haines Whack, race and ethnicity reporter, Associated Press.
10 a.m. – 1A with Joshua Johnson
International news roundup.
Guests: Nick Schifrin, special correspondent, PBS NewsHour; Emily Tamkin, staff writer, Foreign Policy; Mark Hosenball, investigative correspondent, Reuters.
11 a.m. – MPR News at 11
The week in Minnesota politics.
First up: The race to be Minnesota's next governor is in full swing. Delegates to the state's political conventions will meet in early June –the Republicans in Duluth, the DFLers in Rochester — to endorse a candidate. In advance of those conventions, we're talking with the leading candidates. Today: Republican Jeff Johnson. Johnson is a Hennepin County Commissioner and was the 2014 Republican nominee for governor.
Then: We'll talk to DFL congressional candidate Dan Feehan. Feehan is running in the first district. Mulcahy will talk to him about his campaign.
And finally: MPR reporters Tim Pugmire and Brian Bakst, along with Briana Bierschbach join the program for a look at the governor's race and what happened at the Minnesota Capitol this week.
12 p.m. – MPR News Presents
From Neal Conan's "Truth, Politics and Power" series: "The Politics of Oil." Neal Conan interviews Wall Street Journal reporter Russell Gold, the author of "The Boom: How Fracking Ignited the American Energy Revolution and Changed the World," Jason Bordoff, director of the Center on Global Energy Policy at Columbia University, and historian Kevin Mattson, author of "What the Heck Are You Up To, Mr. President?: Jimmy Carter, America's Malaise, and the Speech that Should Have Changed the Country."
1 p.m. – Science Friday
The story of earth's weather contains much more than what humans have recorded. Did you know, for example, that it once rained for a million years straight? On Science Friday, a history of climate change we haven't seen. Plus, we're launching the "Spacewarps" challenge: study patches of sky, and help us weigh distant galaxies.
2 p.m. – BBC NewsHour
An historic encounter between the leaders of North and South Korea, but will the warmth and smiles translate into a lasting peace? Can Germany's Chancellor Merkel persuade President Trump to stick with the Iran agreement? Plus, we'll have the inside track on ABBA's new songs.
3 p.m. – All Things Considered
The latest from the refinery fire; conservatives and the culture war; John Brennan on Trump and the CIA; the Latin America asylum seekers reach the border; the Koreas summit.
6:00 p.m. – Marketplace
Non-bank lender Rocket Mortgage hopes its ads in the new Marvel movie, The Avengers: Infinity War, will give young consumers superhero-level confidence in its automated mortgage process.
6:30 p.m. – The Daily
Bill Cosby has been convicted of sexual assault following years of accusations from dozens of women. What changed between the first trial, which ended in a hung jury, and this one? Guests: Graham Bowley, an investigative reporter at The Times who has been covering the Cosby proceedings; Lili Bernard, a former guest star on "The Cosby Show" and one of more than 50 women who have spoken out against the entertainer.
7 p.m. – The World
Hateful social media posts have led to violence in Myanmar. Facebook says it can work faster to take down incendiary content. The problem, though, is not just in Myanmar.
8 p.m. – Fresh Air
We remember jazz musician, composer and singer Bob Dorough. He died Monday at the age of 94. He's best known for his work on the "Schoolhouse Rock" animated shorts on ABC for kids, and his compositions Three is a Magic Number and My Hero, Zero. He wrote the song Blue Xmas (To Whom It May Concern) at the request of Miles Davis, and his song Nothing Like You was included on Davis's album "Sorcerer." He co-wrote the satirical song I'm Hip with Dave Frishberg. He recorded many jazz albums over the years but didn't have a major-label debut until he was 73 with his Bluenote album Right On My Way Home. We'll listen back to a Fresh Air concert from 1982, and another interview from 1996.