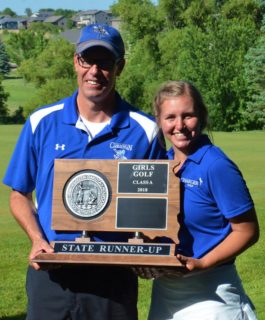 All Sioux Falls Christian senior Kate Wynja had to do yesterday to win the second round of the Class A state golf meet and her second high school championship was stay quiet.
The South Dakota teen had already let her golfing do the talking, easily winning the individual honors and propelling her team to a championship.
All she had to do was stay quiet about the incorrect score on the last hole of the round. She wrote down "4" on her scorecard. But she'd shot a "5".
It was no big deal. She still would have won by four strokes. Her team would've won.
"I knew I needed to tell them," Wynja tells the Sioux Falls Argus Leader.
"It was really sad, mostly because I knew what the result would be. I knew that I would be disqualified and it broke my heart for the team. But I knew I couldn't leave without saying something."
So she said something. And she was disqualified. And her team fell to runner-up in the team championship.
Obviously today didn't go as planned, but God has a plan and uses tough situations for his glory. Blessed with the ability to play golf and play for the glory of God 🙂 thanks for the all the love and support.

— Kate Wynja (@KateWynja) June 6, 2018
"I was heartbroken," said Payson Birkeland, who won the individual title because of Wynhja's mistake and broke down in tears while explaining how she felt about it. "You don't wish that one anyone, so hats off to her for being able to admit her mistake … That's not how you want to win, but it's humbling for everyone to learn from that situation."
"It was awful and I feel truly awful for her," said tournament director Dan Swartos. "I have so much respect for Kate to come up and do that …. I cannot say enough for that young lady and how much integrity that took, and how proud I am to have kids like that in South Dakota."
"I told [her coach] that I was sorry for letting him down since it's his last year," said Wynja, who had been golfing for Garnaas since seventh grade. "I felt so bad, but he said he was just incredibly proud of me. Obviously, he was sad with how it turned out, but he was glad that I did the right thing."
Her team was cool with it too.
Kate Wynja will always be my champ – I can not express enough over how much of a role model and just a great person she is… so much love for her !!❤️❤️ https://t.co/puk4dL2vZ1

— Lauryn Driscoll (@LaurynLaurynd) June 5, 2018
so much love and respect for @KateWynja !! girl ,you'll always be a champ in my books ❤️ love you lots kate !! gonna miss screwing around in practice with you next year 🤪 https://t.co/2LJcGSTJDK

— Lauren Tims (@laurentimss) June 5, 2018
Amen! A+ person and golfer. Wanted to cry for her, also wanted to cry because I was so proud of her integrity. I hope my own children grow up to have as much honesty and integrity as you, Kate. One of my new heroes and tough as nails.

— Dan Swartos (@danswartos) June 5, 2018
The Argus Leader says by the time the post-match meal was underway, Wynja was back to her "bubbly self" because "I was surrounded by people who love me."