Not trying to rub it in or anything, but for years now we've been documenting Minnesota's rising economic dominance over Wisconsin in job creation, gross domestic product and other important economic indicators.
Since the end of the Great Recession, Minnesota has outpaced the Badger State.
The only category where Wisconsin held an edge was in total jobs. It made sense since Wisconsin has a significantly larger population than Minnesota. But in 2015 the trend was clear that when it came to total employees and total private sector employees, Minnesota was coming for Wisconsin — so much so that I wrote, "It will not be surprising to see Minnesota eclipse Wisconsin in a few years," I wrote.
Last month, it happened.
I'm a little embarrassed that I missed it, but Wisconsin Public Radio a few weeks ago wrote:
Minnesota had more jobs than Wisconsin in 2017, marking the first time in recent history that it has passed its Midwest neighbor.

Data released Wednesday by the U.S. Bureau of Labor Statistics showed Minnesota nudged ahead of Wisconsin by 3,096 total jobs.

That's hardly a huge edge given the size of their overall workforces, which total almost 2.9 million workers in each state.

But the latest figures from the U.S. Census Bureau show Wisconsin still has almost 219,000 more residents than Minnesota, and just a decade ago, it had nearly 98,000 more jobs.
Yes, I predicted it. But I'm still stunned by it and by the strength of Minnesota's overall economy the past decade.
The graphs below are from different data sets than the Quarterly Census of Employment and Wages cited by Wisconsin Public Radio's job comparison report, but they more than illustrate Minnesota's ascendancy over Wisconsin.
Jobs
Here's a look at total nonfarm employees …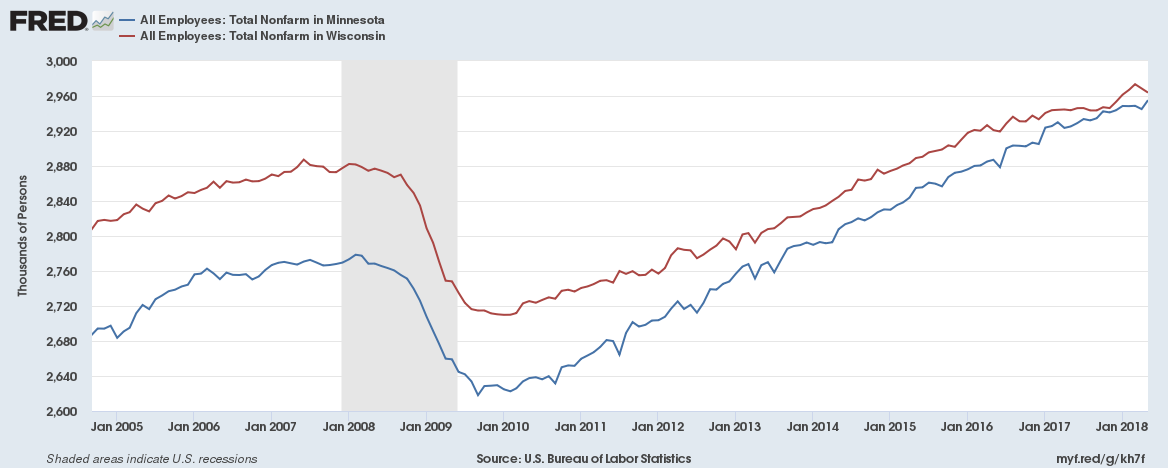 … And private sector job gains: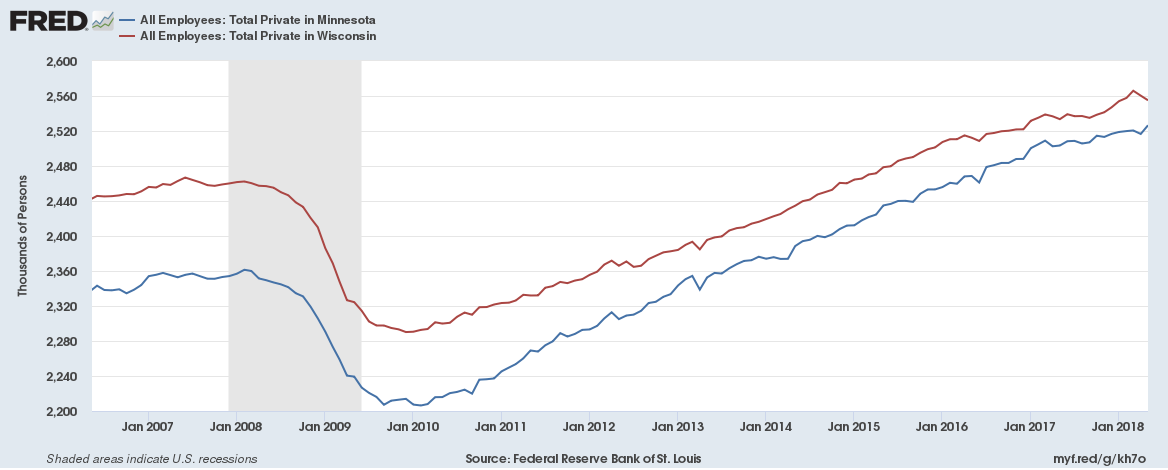 Coincident Economic Activity
This index is a good apples-to-apples economic comparison created by the Federal Reserve Bank of Philadelphia. It combines four indicators (nonfarm payroll employment, average hours worked in manufacturing, the unemployment rate, and inflation-adjusted wages) into a single statistic.
Minnesota and Wisconsin ran neck-and-neck for years. Minnesota's pulled away since the end of the Great Recession.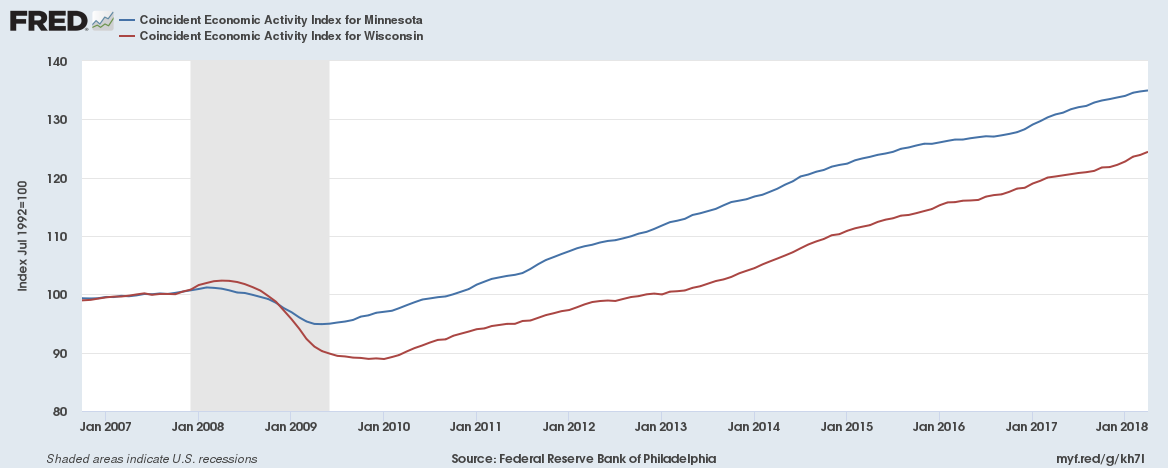 Gross Domestic Product
Minnesota produced about $20.7 billion more in goods and services than Wisconsin in 2008. By 2017, Minnesota had widened that gap to $27.1 billion.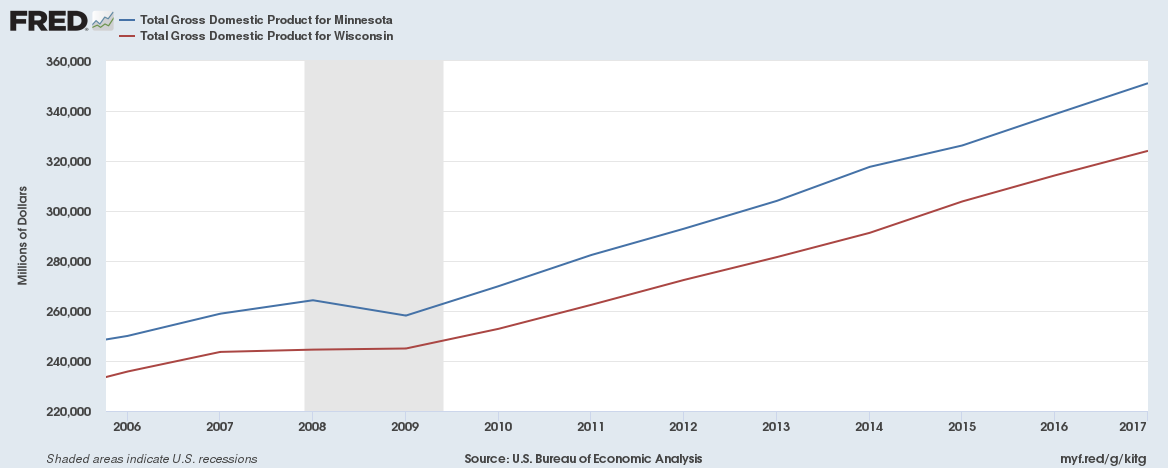 Wages and salaries
When the economy is succeeding and jobs are being created, it's only natural that payrolls will grow, too. But the widening gap between Minnesota and Wisconsin is stunning.
Minnesota reported wages and salaries totaling $11.9 billion more than Wisconsin in the first quarter of 2008. By first quarter 2018, that total wage gap had nearly doubled to $22.4 billion.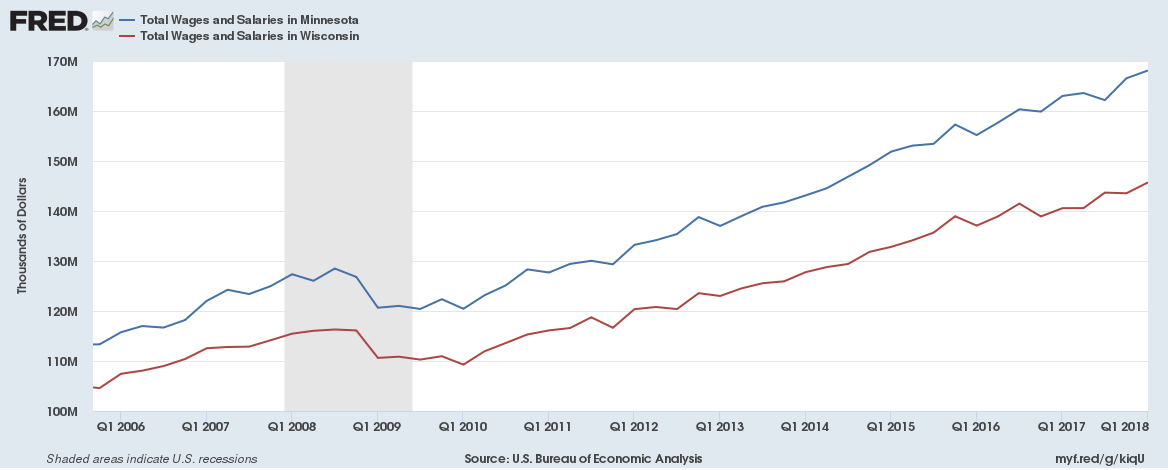 As I've noted before, Minnesota's been able to dominate the comparisons largely because health care and education jobs saved our bacon in the recession and the years that followed, and Minnesota's economy is less dependent than Wisconsin on manufacturing.
Perhaps our trend lines will cross again, Wisconsin.
For now, though, goodbye.