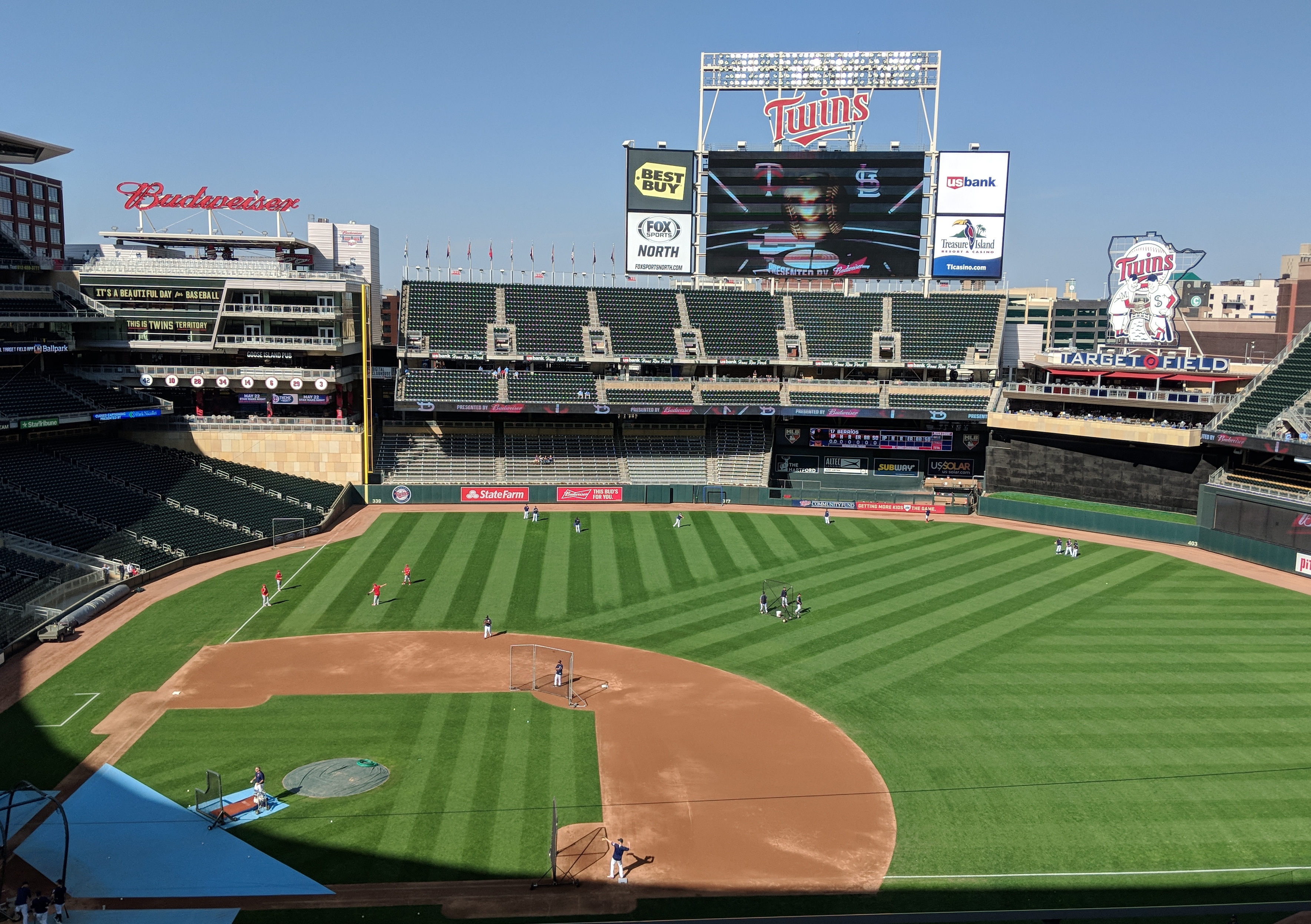 During the downpour on Saturday, probably three hours into what turned out to be a four-hour rain delay, nobody was left in the entire upper deck of the outfield seating at Target Field in Minneapolis except a father and his little boy (7 or 8 years old, I'd guess), who were under the scoreboard overhang. The boy was patiently waiting, his baseball glove still on his hand, the two literally "dipping themselves in magic waters."
You cannot be farther away from home plate at the stadium than this kid was. He wasn't getting a ball. No way. Impossible. A youthful dreamer seeking shelter from the rain.
When I was a kid, I was that boy, standing behind the bullpen in the bleachers at Fenway, the rain itself predicting no game that night, and everyone else, having gotten the message, gone. Except a couple of teenage girls several sections away.
The other fans had been invited by the Red Sox to seek shelter under the stands or move to the covered seats.
Tom Hilgendorf of the Cleveland Indians (who would later be injured when he was hit by a chair during Cleveland's famous 10-cent-beer night), looked at me as he tossed a ball onto the corrugated tin roof of the bullpen.
I wanted to reach over and grab it. I was only 2 feet away, but surely he didn't want me to have it. Whatever kind of person deserves a Major League baseball, surely I was not worthy of being that person.
I never reached for the ball.
The teenage girl sprinted across Fenway Park's bleacher sections and grabbed it.
Hilgendorf stared at me and didn't have to say anything. "For God's sake, kid, it's a Major League baseball. What is the matter with you?" It's become the voice in my corn field. What's the matter with you?
Rain delays are opportunities to make memories. Tom Hilgendorf knew that and because he did, I do too.
I couldn't not think of my rain delay regret as the drops pelted my poncho when I climbed toward the kid on Saturday. It's a long way up there, enough that I had time to think, "I hope they don't think I'm coming up to give them a hard time or anything."
"Put your glove up," I said as I rejected the idea of the last 20 steps or so.
When he did, I tossed him a Major League baseball.
The kid literally squeeled, and was still shouting and jumping as I walked back down the steps thinking, "take that, Fenway Park teenage girl."
After the game, kids and their moms and dads played catch on the outfield grass. The sun set behind the third base grandstand as small, white time machines arced back and forth, reminding us that we were once good and can be good again.
I didn't see the kid or his dad again. I think they might've given up on the game.
I hope that 50 years from now, that kid will look at a similar scene and think about the time he and his old dad huddled under a scoreboard in the rain and made a memory that survived the rest of us.
This is how we baseball.