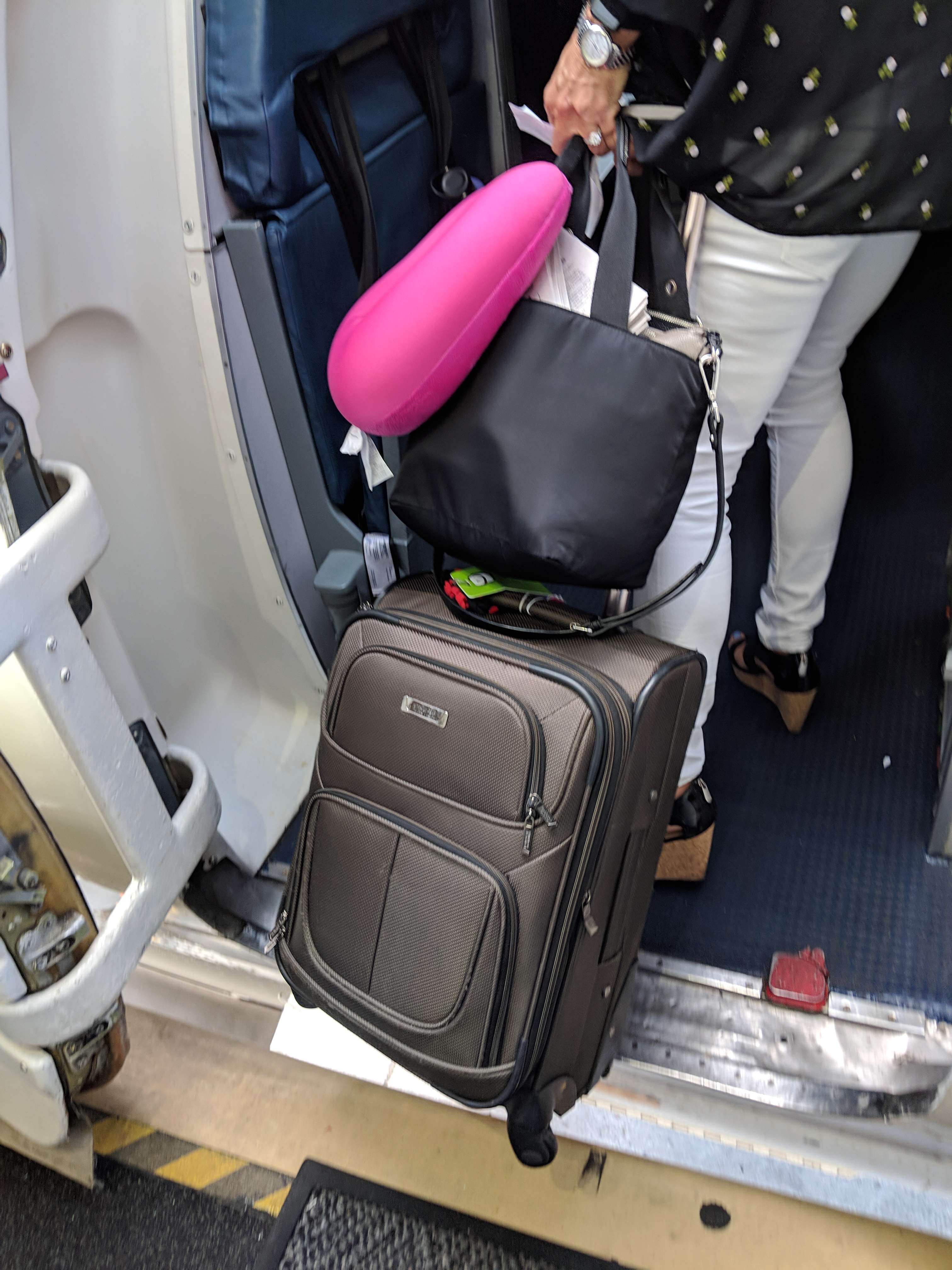 Near the check-in area of the airport sits the world's loneliest box. It's the one you're supposed to fit your carry-on luggage in. If it doesn't fit you have to check it, sparing your fellow passengers the dread of delayed flights because a planeload of Sherpas is trying to jam their carry-ons into an overhead bin that's already full.
We could load planes in about 5 minutes — and unload them in about four — if people didn't carry on their luggage. But the legacy airlines have made the exercise worth it because of baggage fees and many passengers play a game of not paying at the ticket counter, but checking them on the jetway, where there's no charge. Fun for the rest of us.
Now, Delta is the latest airline to ensure that the game expands. It's quietly raised its checked bag fee from $25 to $30. It'll be $40 for the second.
The move is counter to ease of loading/unloading; it also creates a potentially unsafe situation because we know that in an emergency evacuation, many people will try to flee with their carry-on.
But this is big money for the airlines. The industry hauled in $2.4 billion in baggage fees in the first six months of the year, according to the Bureau of Transportation Statistics.
Delta is following the lead of United Airlines, which had earlier raised its baggage fees. American will probably soon follow suit.
The airlines continue to market the fees by heralding the "choice" that passengers have.
"It really amounts to being able to allow a booking to happen and then offer amenities that customers want and want to pay for as we go forward," American Airlines president Robert Isom said yesterday.
Eventually, the legacy carriers will charge for all carry-ons, which Fortune magazine calls the "third rail" of aviation.
But it could get even worse for the checked-baggage fees too. Ben Baldanza, the former Spirit Airlines exec who just joined Jet Blue's board of directors, told CNBC that it makes sense to provide "dynamic pricing," in which the fees go up during peak travel times.
"There are planes full of bags and [airlines] probably could have charged a $1 more [to check] bag and everyone would have paid the fee," he said.
There's also a good reason for airlines to continue making getting on and off a plane more difficult and frustrating; passengers will pay more to sit closer to the front.
Congress, which has its own method of making life miserable for people, is making noise about regulating all of this, but it probably won't, the Cranky Flier blog writes today.