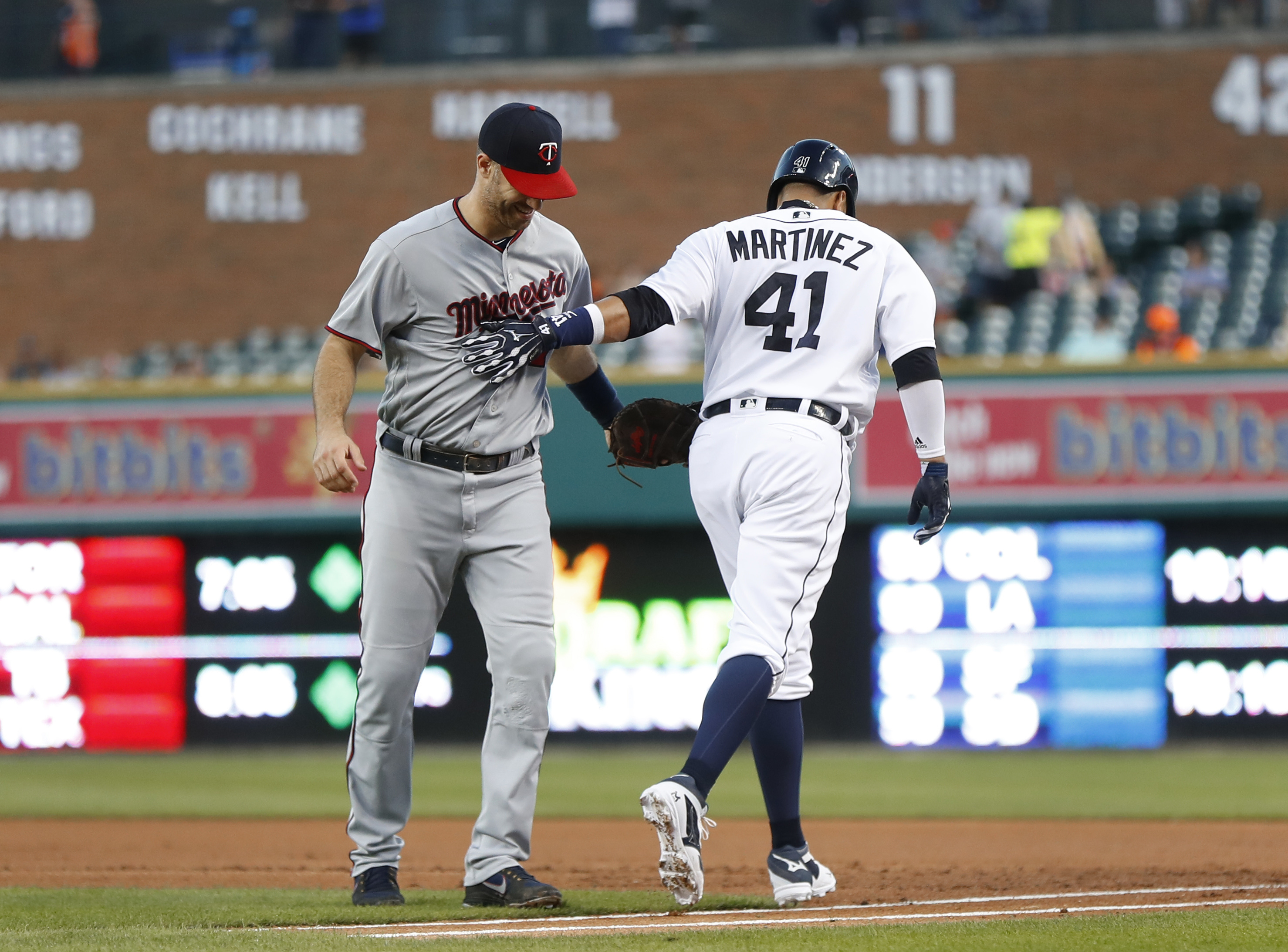 Minnesota Twins first baseman Joe Mauer greets Detroit Tigers designated hitter Victor Martinez as he runs out a force out in the first inning of a baseball game in Detroit on Sept. 17. Paul Sancya | AP
The smartphones all went into the air at the same moment the other night behind the dugout at Target Field, thrust there by the few fans still attending baseball games, believing that they're living the end of an era in Minnesota sports.
Joe Mauer was at bat.
Mauer's big contract is up when the season concludes on Sunday and there's no chance the Twins are going to offer him anything close to the paycheck he's cashing now.
A few weeks ago, I wrote in this space that I thought Mauer would be back — at reduced pay — because, why not?
I don't believe that anymore. I think he's had enough.
I'm not an expert in body language, by any stretch, but what I'm seeing is a guy who's taking in an experience one last time.
Maybe he made it a regular practice to stop at the dugout steps at the end of each inning in the field and greeted his teammates before and I just never noticed.
Maybe he's always looked around his home for the last nine years like an owner who's selling the house his kids grew up in.
Maybe he's always been the kind of guy to tap the now-retired Victor Martinez of the Detroit Tigers on his heart and lean in for a few whispered words.
But what he's always been is the type of person who seemed shy about people making a big deal about him, so it's hard to believe he'll announce in the off-season that he'll play one more in a farewell-tour season.
On Tuesday night, he passed Harmon Killebrew in becoming the all-time leader in reaching first base for the Twins. Earlier in the season, he passed Rod Carew and moved into second place (behind Kirby Puckett) on the all-time hits list for the team.
"I don't think it's about anything other than, 'Do I want to do this again?'" former Twins manager Ron Gardenhire told the Pioneer Press' John Shipley. "Body-wise, or for the family — his kids are getting older. He's going to have to sit back and think about it."
"My gut right now is that he's probably going to play," manager Paul Molitor told Shipley.
Despite an MVP season in 2009, Mauer's performance always seemed consistent if not Hall of Fame caliber. Then you look up in the last days of the season and he's passed Killebrew and Carew on two lists, passed Kirby Puckett on another (doubles), and is within striking distance of Puckett on one more. All three — Killebrew, Carew, Puckett — are in the Hall of Fame.
This week, Sports Illustrated looked at why a subset of Twins fans don't — or didn't — care for him that much.
He might be most notable for fulfilling every positive stereotype of Minnesotans.

When he was maybe the most sought-after athlete in the entire country as a five-star quarterback prospect committed to play at Florida State, Mauer maintained a slow-spoken and humble demeanor hardly befitting of a 6'4" superstar.

During his career with the Twins, he's remained his assiduous self and used his social media presence mostly to be a doting dad. He used the same at-bat music—T.I.'s "What You Know"—for 13 consecutive seasons.

"Had [Mauer] left for the Red Sox or Yankees in 2010, those same fans who are calling for his head now would have burned down Target Field," says Aaron Gleeman, Editor-in-Chief of Baseball Prospectus and host of the Twins podcast Gleeman and the Geek. "There are all sorts of these inferiority complexes at play and there are some fans where no amount of context matters, they just like to get mad."
None of those fans are the type to attend baseball games of a losing team at the end of September, or thrust a cellphone in the air for a permanent record that they once watched a player they'll come to appreciate more in the years ahead than perhaps they do now.
Related: For someone who says he hasn't made up his mind about retiring, Joe Mauer certainly seems like he's savoring his last days as a Twin (MinnPost)