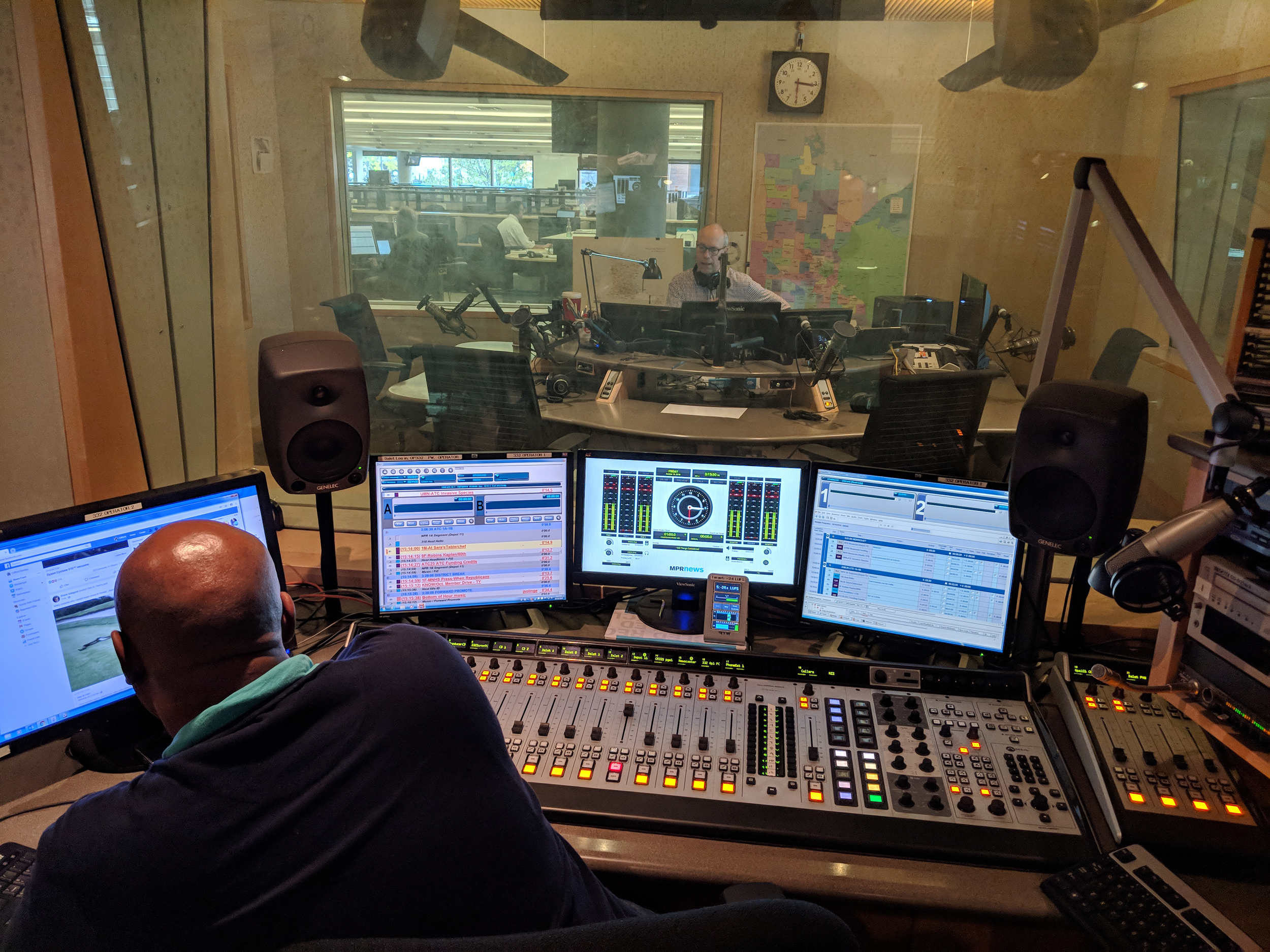 Monday October 22, 2018
(Subject to change as events dictate)
9 a.m. – MPR News with Kerri Miller
MPR News host Kerri Miller and Ken Rudin talk about the week's political news.
9:20 a.m.- Election Day is rapidly approaching on Nov. 6. With early voting commencing in most states, what key issues are Americans concerned with as they head to the polls?
Guests: Sharon A. Navarro and Philip Chen
10 a.m.- 1A with Joshua Johnson
After the Supreme Court dealt a blow to unions in the Janus vs. AFSCME case this June, teacher's unions are reeling. The labor movement has been working at the state level. We're unpacking proposals about collective bargaining and union trends for the latest edition of our series, "The State We're In."
Guests: Sarah Duncan, candidate, West Virginia House of Delegates, 11th District. K-8 visual arts teacher; Scott Greenberger, executive editor, Stateline, a journalism project of the Pew Charitable Trusts; Vincent Vernuccio, senior fellow, Mackinac Center for Public Policy; Randi Weingarten, president, American Federation of Teachers.
11 a.m. – MPR News at 11
By the time Election Day arrives, many Americans — including many Minnesotans — will have already voted. In the primaries, Minnesota had its highest voter turnout since 1994. It was a monumental feat, but Minnesotans have led the nation in voting participation for several years.
In other parts of the country, voter turnout is more stagnant. Thirty-seven states and the District of Columbia have early voting and every state allows permit absentee voting, yet voting ahead of Election Day could be even easier and more efficient.
Guests: MPR News reporter Mark Zdechlik, Kat Calvin and Kent Kaiser.
12 p.m. – MPR News Presents
"Checks and Balances." Episode 5 of the APM series "The Democracy Test" hosted by Neal Conan and historian Heather Cox Richardson. What we can learn from previous periods of political paralysis and why the breakdown of our unwritten rules isn't always a bad thing.
Guests: Julia Azari of Marquette University; E.J. Dionne, author of "Why Americans Hate Politics"; Beverly Gage, author of the forhcoming book, "G-Man: J. Edgar Hoover and the American Century."
1 p.m. – The Takeaway
The Takeaway will be looking at election infrastructure in this country, how it's broken and what we can do to fix it.
2 p.m. – BBC NewsHour
Saudi Arabia: efforts by the authorities to distance the Crown Prince, Mohammed Bin Salman, from the killing of Jamal Khashoggi, have done little to quell continuing criticism and disquiet over the affair
3 p.m. – All Things Considered
A Minnesota teen who was diagnosed with acute flaccid myelitis (AFM) now is working to be a source of information and support for the families of other kids who have the illness. We'll talk to him about his experience with AFM and his efforts amid the latest outbreak of the illness, and talk to his family and one of his doctors, too.
Just in time for the November elections comes this play about our nation's harsh political divides. Trademark Theater Company has paired with national non-profit Better Angels to host post show discussions that help to bridge the chasm between liberals and conservatives.
And a political roundtable on the latest MPR Star Tribune polling.
6:00 p.m. – Marketplace
A look at what happens when weed and the gig economy collide. Recreational marijuana is legal to sell in California, and delivery has become one of the fastest-growing sectors in this new industry.
6:30 p.m. – The Daily
Stacey Abrams is trying to, after all those years of registering new voters—she needs them to come out and vote for her. And after all of these years, the person who she is opposing in this race is the same person that she calls the architect of that voter suppression.
7 p.m. – America on the Line
A live conversation about issues and personalities driving our politics. With news, analysis, and listener call-ins.
8 p.m. – Fresh Air
Actress Melissa McCarthy is starring in the new film Can You Ever Forgive Me? based on the true story of a writer who becomes a literary forger. It's a rare dramatic role for her. McCart hyhas twice received an Emmy for her role in the sitcom Mike & Molly and for her guest appearance on Saturday Night Live as Sean Spicer, Trump's former press secretary. McCarthy's breakout role was in the film Bridesmaids. Her other recent roles are in the films HappyTime Murders, and Life of the Party.