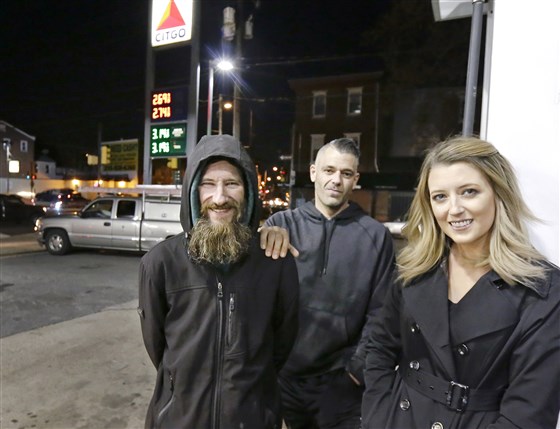 The story of Mark D'Amico, Kate McClure, and Johnny Bobbitt Jr., is almost enough to make people stop giving any money to fundraisers via GoFundMe. Now, the story is getting even weirder.
You may recall McClure's story is her car broke down on a Philadelphia highway when it ran out of gas. Bobbitt, a homeless man who was once in the Marines, gave her the only money he had. Her GoFundMe campaign on his behalf raised a fortune, which he said the couple kept mostly for themselves.
Now, prosecutors have added a new twist: they were all in on the scam, NBC News says.
Fourteen-thousand people got suckered into giving more than $400,000 in all.
In September, authorities raided the home of D'Amico and McClure after the Philadelphia Inquirer reported that Bobbitt had received only $75,000 of the money while the couple was spending it on vacations and travel.
After Bobbitt sued, the couple's attorney acknowledged during a court hearing earlier this fall that the money was all gone.
GoFundMe has given Bobbitt $20,000, promising to give him the rest of the money he's owed.
The county prosecutor will hold a news conference today, the newspaper reports, but makes no mention of Bobbitt's alleged involvement in the scheme.
A local TV station, however, says all three will face charges including conspiracy and theft by deception.