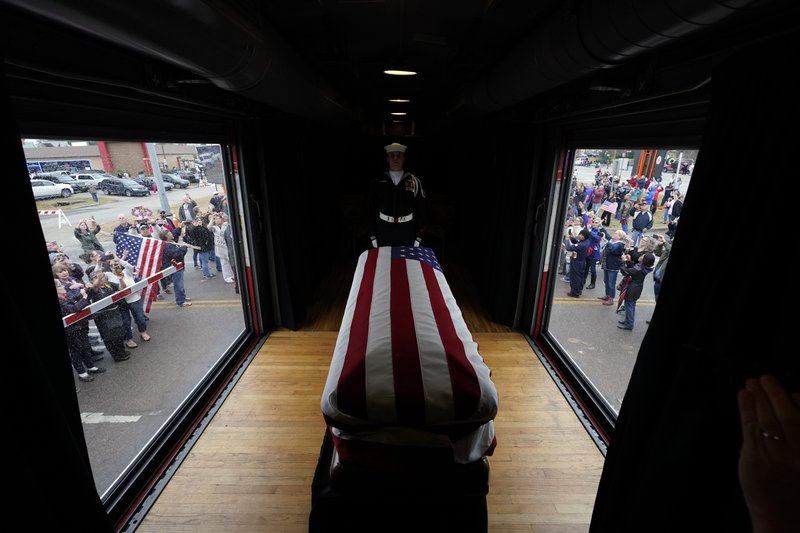 It was a little disconcerting the other day when I hopped in the car after a meeting in Oakdale and heard myself on the radio. After the service for President Bush in Washington, MPR replayed the extensive — and, I think, thoughtful — interview with Bush biographer Jon Meacham.
At the time of the interview years ago, I thought Meacham might've been too quick to dismiss certain realities about Bush the politician. Driving in the car the other day, I found that not to be the case.
I sent a link up to my sister back East, a longtime lawyer in government service of some sort and failed politician at one point. She was not interested. She muttered — if you can mutter in an email — about the number of people imprisoned on drug charges. She was disgusted with the plaudits she'd been hearing while watching and listening the funeral coverage on various platforms.
It's illogical, of course, to ask for a delicate balance at a funeral; that's just not how it works. At the same time, we can acknowledge that political sainthood isn't reality either.
Nobody is in a more precarious position in assessing a person who hasn't been buried yet than the nation's journalists, as NPR ombudsman Elizabeth Jensen makes clear this week in her column responding to listener comments on the coverage.
A critical mention is going to draw complaints of the lack of respect for the dead. Their absence will be called historical amnesia.
Jamming 94 years of history into the four minutes of coverage when a person happens to be listening to the radio? And not offend listeners in the process? Neat trick.
NPR did a generally good job, Jensen accurately points out, with an exception:
By contrast — and this is the one major hole I see in NPR's coverage — NPR was very slow off the mark in grappling with Bush's record responding to the HIV/AIDS crisis. It was briefly mentioned on Monday, but the first extended report was on Tuesday's All Things Considered; the online piece ran the same day. While the interview itself was a good one, it was too little, too late, most particularly for those who lost friends and family members in the crisis. It's important to remember, as interviewee Urvashi Vaid told listeners, that some 180,000 people died as a result of the AIDS epidemic.

NPR did not explore in any detail Bush's brief tenure as CIA director in the 1970s, choosing instead to focus on his presidency. NPR waited until today, nearly a week after his death, to report online about his lame-duck pardons of those involved in the Iran-Contra scandal. But in various interviews and reports, NPR dealt with his influence on the Supreme Court (especially his nomination of Clarence Thomas), the Persian Gulf War and its aftermath, and abortion.

I asked Terence Samuel, an NPR deputy managing editor, to assess how NPR did.

"I think it's the nature of funeral coverage on this scale to talk about people's accomplishments," he said. "That can feel laudatory, and when everybody is doing it, that can feel overly so. Did we do that to the exclusion of anything else? I would say no. But I would understand the criticism of people who felt we hadn't done enough on things such as his shortcomings, failings or mixed accomplishments."