Alas, there'll be no sell-off of The People's Stadium.
Craigslist has removed the posting, offering the stadium for sale for $1 billion, and for good reason.
First, the frustrated Vikings fan doesn't own the stadium, of course. And, second, even if he did, he'd just blow the wad on quarterbacks who aren't very good, offensive linemen who are too small, and coaches that don't recognize either of those two realities.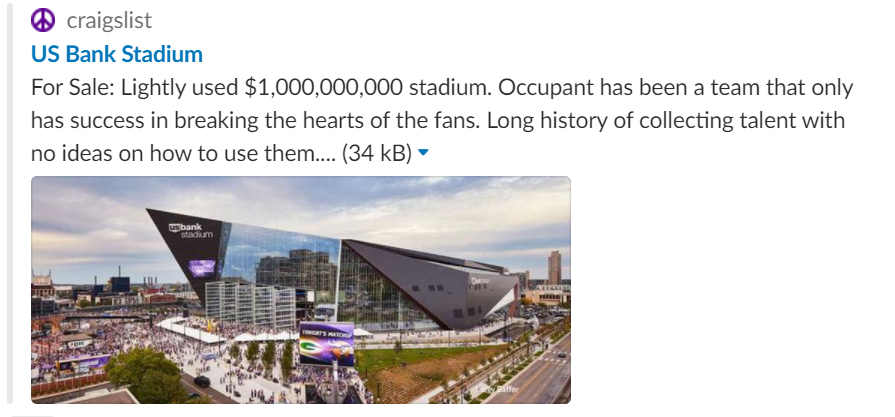 The ad said:
For Sale: Lightly used $1,000,000,000 stadium. Occupant has been a team that only has success in breaking the hearts of the fans. Long history of collecting talent with no ideas on how to use them.

Included: $84 million QB who can't win against teams with winning records, and is 0-7 on MNF. A league record!

All reasonable offers considered. Will even entertain ideas to convert to a homeless shelter, as there is a greater chance of one of those folk becoming a success.

do NOT contact me with unsolicited services or offers
It was a heck of a try by the fan, which is more than can be said for the team that occupies the joint.
(h/t: Paul Tosto)
[Update]
Waste the money on bad QBs and the O-Line? I don't think so. It would be wasted on cars. Lots of cars. 😉 (I wrote that "ad" by the way. I can provide proof of need be.)

— Matt B. (@originalmattb) December 11, 2018