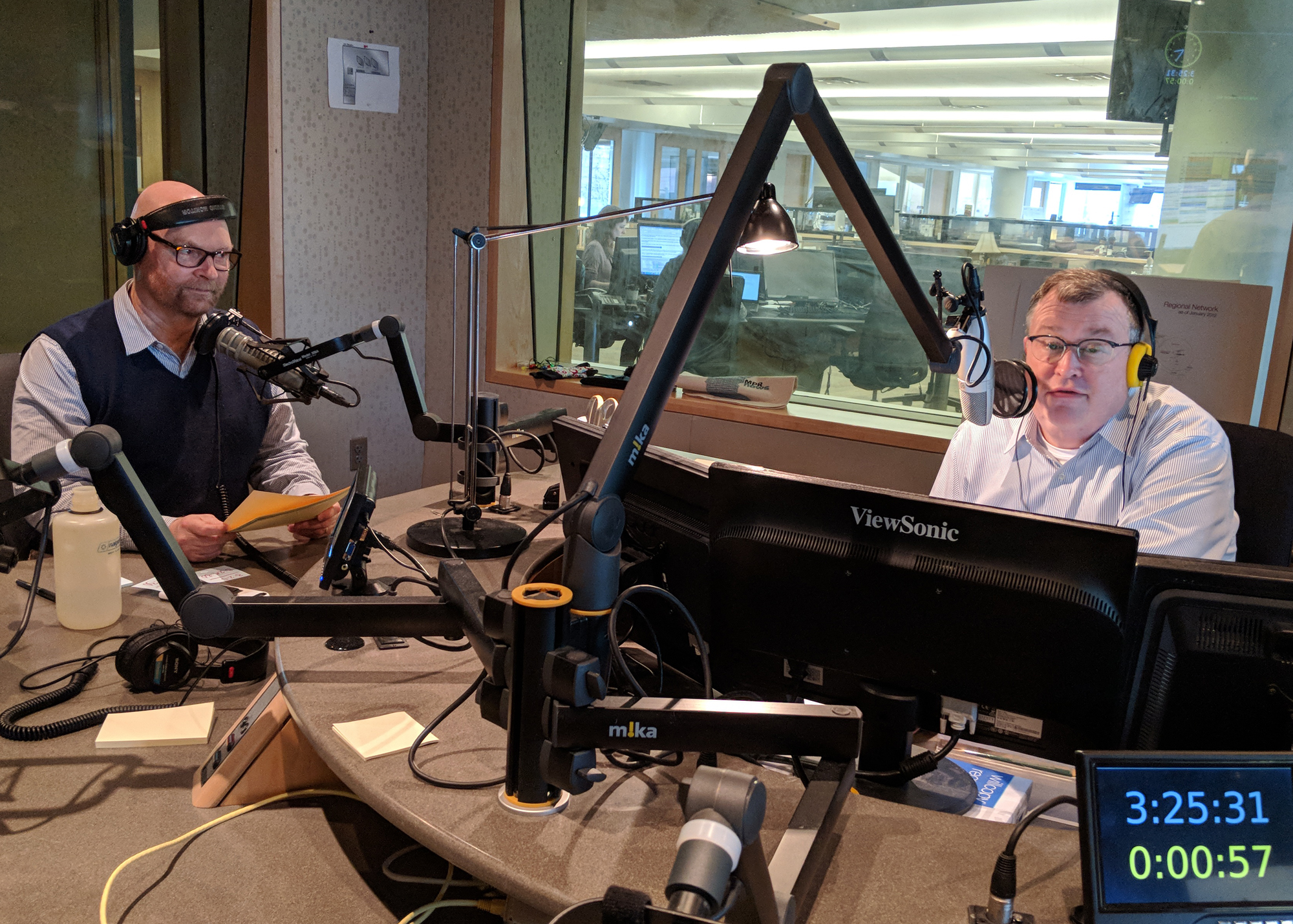 Tuesday May 14, 2019
(Subject to change as events dictate. This page is updated throughout the day.)
9 a.m. – MPR News with Kerri Miller (Rebroadcast)
Mental health is often viewed as a taboo subject in professional sports. Star athletes are expected to have superhuman strength and unbreakable will, but even they are not immune to anxiety and depression.
Most professional sports leagues have resources that current and retired players can utilize, should they find themselves struggling, but there is still a stigma surrounding seeking out help for mental health issues. That hasn't stopped sports stars such as Serena Williams, Michael Phelps, and Kevin Love from speaking up about their experiences with mental health.
Guest: Brent Walker is the former President of The Association for Applied Sport Psychology;
Dr. Angel Brutus is the Director of Counseling and Sport Psychology at Mississippi University
10 a.m.- 1A with Joshua Johnson
These days we're pretty good at labeling people we don't like. No wonder we can't work through our differences. Irshad Manji is taking on our tendency to get offended: to push away people we disagree with. Can we learn to appreciate people's complexities, and their politics?
Guest:Irshad Manji on her new book, "Don't Label Me."
11 a.m. – MPR News with Angela Davis
Angela Davis is joined by education reporter Elizabeth Shockman and editor Eric Ringham. We'll listen to some of the stories that they have worked on together and we'll take calls from listeners about what education reporting they would like to hear more of on MPR News.
12 p.m. – MPR News Presents
A new debate from the Intelligence Squared series. The debate motion this time is: "All Hail the Driverless Car."
1 p.m. – The Takeaway
More than 100 of the country's rural and remote hospitals have gone broke and closed in the last 10 years. That has turned some parts of the US into what experts are calling "health-hazard zones." The Takeaway looks at how and why rural hospitals are struggling, and what some are doing to stay afloat.
A school district in Rhode Island was planning to serve only cold sandwiches to students with school lunch debt, visibly dividing students and promoting, many said, "school lunch shaming."
On Monday, China promised to hike levies of $60 billion worth of US goods. With both sides signalling an unwillingness to back down, The Takeaway talks with a trade expert about the potential effects of a prolonged conflict on global markets.
Secretary of State Mike Pompeo abruptly canceled a planned trip to Moscow and instead headed to Brussels Monday to meet with European foreign ministers, amidst concerns about the U.S. heading toward a confrontation with Iran.
A conversation with comedian Rachel Dratch about her life in comedy and the longtime friendships that have sustained her.
2 p.m. – BBC NewsHour
Whatsapp users have been urged to download the latest updates to tackle a security flaw that allowed users to be spied on; a special report from India on the final phase of the country's election; we hear about the world's first school for transgender children and their siblings.
3 p.m. – All Things Considered
Farmers talk tariffs; the Brexit EU elections; Jayson Greene memoir; allocating organs; a podcast contest.
6:00 p.m. – Marketplace
How one Georgia community lost a hospital and had to look in a neighboring town for an alternative. Many hospitals in rural areas are struggling to stay open, but if they close, what happens to the communities they serve?
6:30 p.m. – The Daily
After angering Democratic leaders with her comments about impeaching President Trump, ae congresswoman is at the center of a new political storm — over comments about Israel. We spoke with her about the roots of her views on the Israeli-Palestinian conflict.
7 p.m. – The World
Today we're answering the question, what's up with WhatsApp? The encrypted messaging and phone service is ubiquitous across the globe, but this week users are learning its vaunted security is not fail-safe. The company has released a patch to resolve a vulnerability in the app's phone service that allowed hackers to put spyware on users' smartphones. Host Marco Werman talks with a cybersecurity expert about the breach. And we hear from WhatsApp users around the globe about how reliant they are on the service.
Also, the intersection of human rights and climate change. The indigenous people who live on the low-lying islands of the Torres Strait, off the coast of Australia, have lodged a human rights complaint with the UN. The islands are threatened by rising sea levels. And in their lawsuit, residents accuse Australia of breaching their human rights by not doing enough to tackle the main cause of sea level rise: climate change. Marco talks with the lead lawyer in the case, New Zealander Sophie Marjanac.
And we follow the money to understand how Nicolas Maduro remains in power as president of Venezuela while his country's economy has collapsed. A new report from the Institute for National Security Studies connects the dots between the wealth of Venezuela's state-owned oil company, several international partners, and the tangled system of corruption and graft that Maduro inherited from his predecessor, Hugo Chavez.
Plus, how students at a high school in Nova Scotia, Canada, are honoring their Mi'kmaq indigenous heritage. They and their music teacher wrote Mi'kmaq lyrics to the classic Beatles song "Blackbird" as their way of celebrating the International Year of Indigenous Languages.
8 p.m. – Fresh Air
The guest is Howard Stern, who has a new book collecting some of his best interviews. He talks about the early years of his show, how his approach to interviewing has changed, and the benefits of psychotherapy.