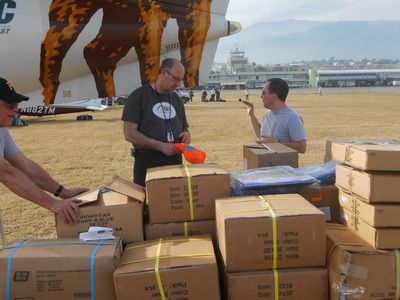 Tons of relief supplies destined for Haiti are sitting in an airport on the outskirts of Miami. There's a backlog of relief flights into the country. But the final planeload of supplies from the Minneapolis-based American Refugee Committee (I wrote about it last week) arrived in Port au Prince this morning, encountering no delays, according to the Minnesota businessman who accompanied them.
"We made four flights of the most urgent of the supplies into the Haiti airport," says Perry Witkin, an ARC board member who owns Stat Technologies in Golden Valley. "Over a two-day period we got all four flights in. There's a significant backlog of flights and ability to get slot times to land here, but I think because of the fact that we brought in emergency relief supplies on smaller planes, we were able to slip in between some of the larger flights."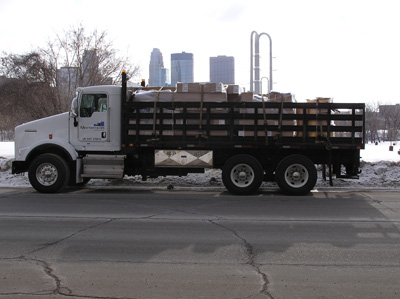 Witkin, who is on the board of directors for the American Refugee Committee, has worked on disaster response activities in the Midwest and with Hurricane Katrina. "I think any disaster in the United States … you can't compare it to a disaster in other parts of the world. White tornadoes and hurricanes are devastating, the scope of them is somewhat contained. Obviously, Katrina was a massive, massive hurricane, but even with that, within 50 or 100 miles from where it ended, we had the United States infrastructure to rely on for support and resupply and redistribution and endless amounts of good things, where as in an area that is isolated to begin with… and with an earthquake that's destroyed the infrastructure, it's not like you can go 40 miles down the road, stop, and just have all of the infrastructure and services you need."
Witkin will stay in Haiti for a couple of weeks before returning to Minnesota. There's still a ship with supplies from Minnesota enroute. "The Minnesota community donated close to 90,000 pounds when I left, and there's more still coming in. Part of it is cost; it's far less expensive to bring it over on a boat," he said.
"The needs are great and the donations are needed and required," he said, encouraging donations through the ARC Web site.
Here's the full interview:
Audio not found
(Photos courtesy of American Refugee Committee)