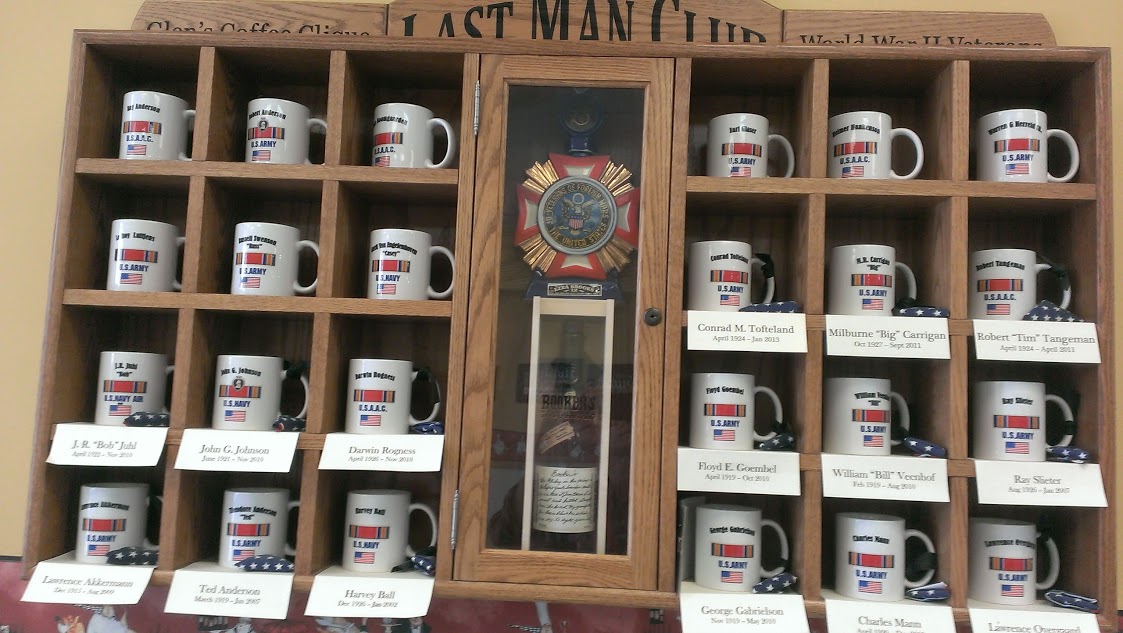 Bob Collins | MPR News
On the wall of Glen's Bakery & Deli in Luverne, Minn., 15 coffee mugs never leave the shelf that holds a bottle of Booker's bourbon. They represent the deceased members of a club that Glen Gust, a Vietnam veteran, started in 2010 to honor the men who regularly stopped in to his store. There are only nine left in Glen's Coffee Clique Last Man Club.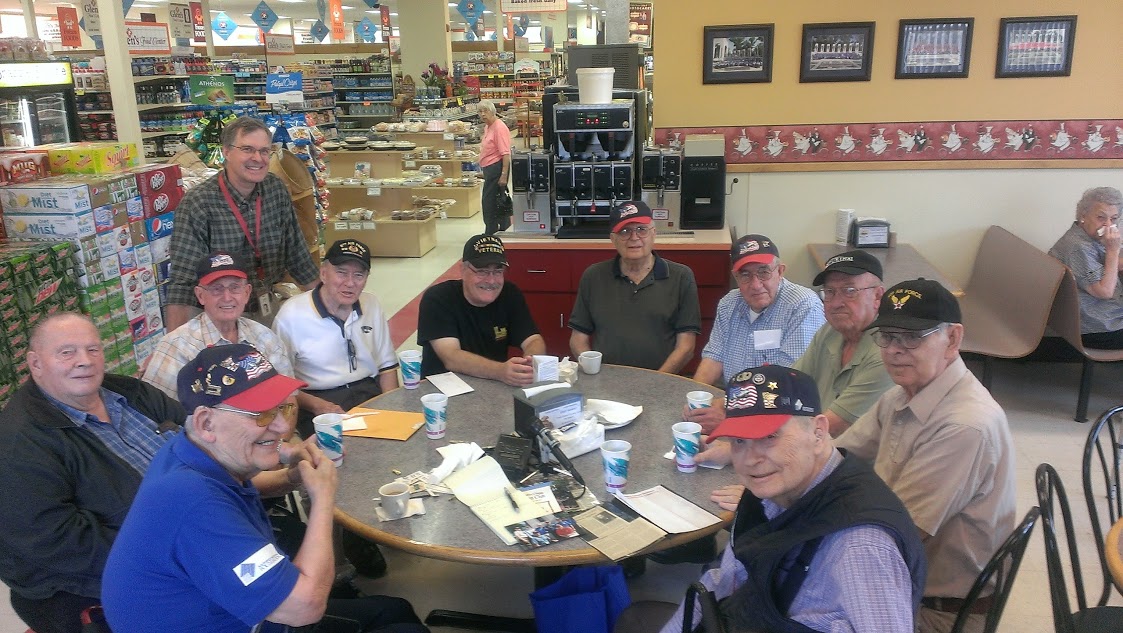 Chantel Connell 
"We've heard all the stories before," Warren Herreid said when I sat with the club recently, as several members took turns finishing the war stories another member started.
And there are plenty of them. Ray Anderson flew 34 missions over Europe in a B-24 and never got hurt. Robert Anderson jumped out of perfectly fine airplanes, he says, showing the scar he says he got in Bastogne. Jake Boomgaarden similarly survived life in the Air Corps, though he can tell you about Norman Nelson, a pal from nearby Magnolia, Minn., who perished along with his entire crew when his B-17 was shot down over France.
Helmer Haakenson can remember the day — January 16, 1941 he quickly recalls — when 5,000 Luverne residents turned out at the train depot to say goodbye to 126 of Luverne's kids. Earl Glaser was in the Air Force band. They also serve who can blow a note or two.
The military was a way of life if you grew up in Luverne in the '30s. "We joined the National Guard so we'd get a dollar a week; that put us through high school," Herreid says. "They gave us sweaters and things we needed in high school. Almost all high school guys, juniors and seniors, were in the Guard."
When the Guard was sent to Kodiak, Alaska, to protect a Navy base shortly before the war broke out, it was a passport to the world and a front-row ticket to war, even if some young men had to cheat to get it. "We had a guy who said 'how old are you?'," Herreid said. "He'd say '15.' (The person in charge) said, 'go outside and the sergeant will tell you how old you are."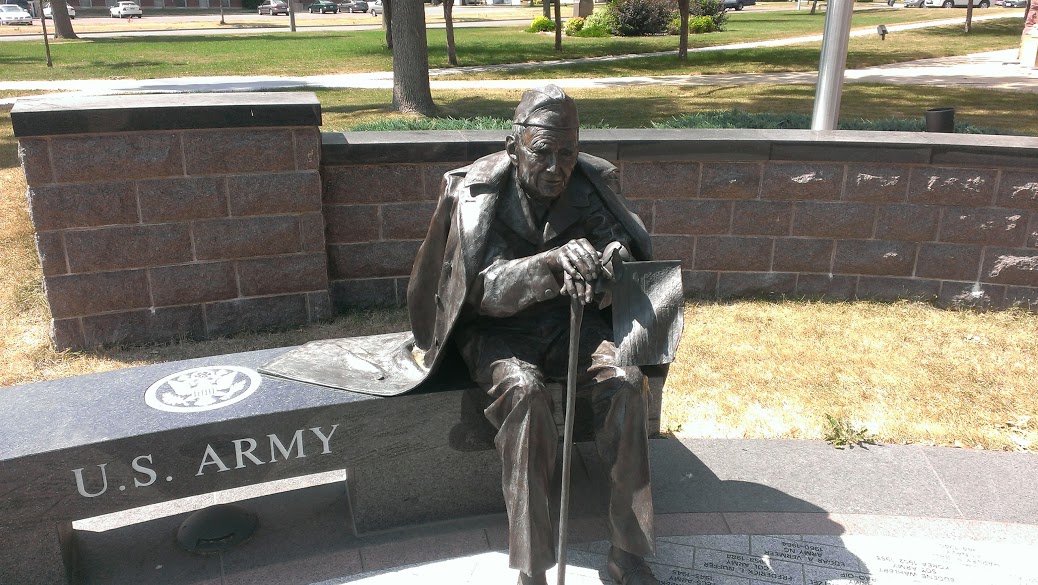 The statue at Luverne's Rock County Veterans Memorial is named "Poppies," because the veteran is holding poppies, symbolizing veterans immortalized in John McCrea's 'In Flander's Fields.' Bob Collins | MPR News
Luverne is better at honoring its World War II vets than a lot of other World War II vets are. The men of Luverne wanted to visit the National World War II Memorial in Washington, but veterans groups in nearby Sioux Falls refused to allow them on an Honor Flight, the free one-day flight for the Greatest Generation. "They said 'no, we're not going to take any Minnesota veterans,'" according to Herreid. "Then we tried to get on one in the Cities, but they said we live too far away and they wouldn't take us."
So people in Nobles, Murray, Pipestone and Rock counties — Luverne, Pipestone, Slayton, and Worthington — raised the money instead. The men got their trip in May 2010. They still talk about it during the daily "meetings" at Glen's Deli
Luverne couldn't possibly be farther from World War II. But Ken Burns' "The War" documentary in 2007 provided a national identity with the war by profiling Quentin Aanenson, a Luverne lad who piloted a P-40 in Europe, but who returned home, full of regret "It's hard to understand why the guy next to you was blown apart and why you're able to go on to have a wonderful life," he said.
Aanenson wasn't in the Last Man's Club. He died in 2008 and didn't stay in Luverne anyway. But his own documentary dominates a museum dedicated to veterans in Luverne. It's being built and financed by Warren Herreid's son.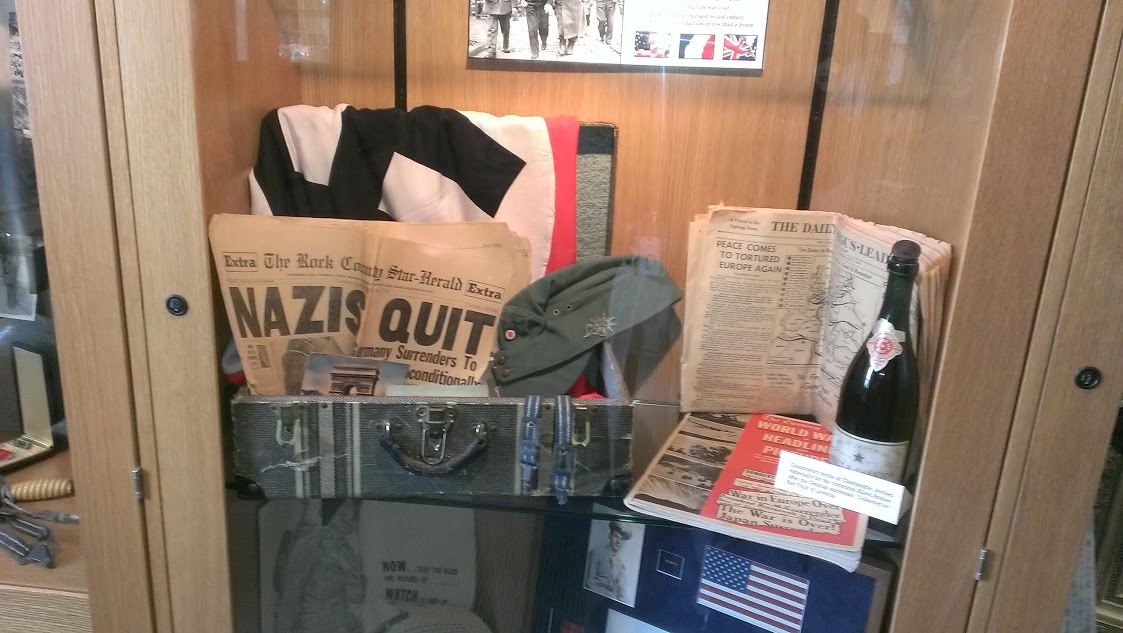 Bob Collins | MPR News
The museum is also a magnet for Luverne's diminishing generation. After lunch at Glen's — he provided free cake, ice cream, and coffee for the vets — several drove the few blocks to the museum, housed in what used to be the Rock County jail, but which now features a Jim Brandenburg gallery on the first floor, and the veteran's memorial on the second and third floor.
They've all been here before, of course, but the museum houses their youth. "Here's my plane, " Ray Anderson says, pointing to a model of a B-24 on which he was an engineer. Then he spies the picture of a young man on a camel, taken in Cairo. Cairo is a lifetime from Luverne.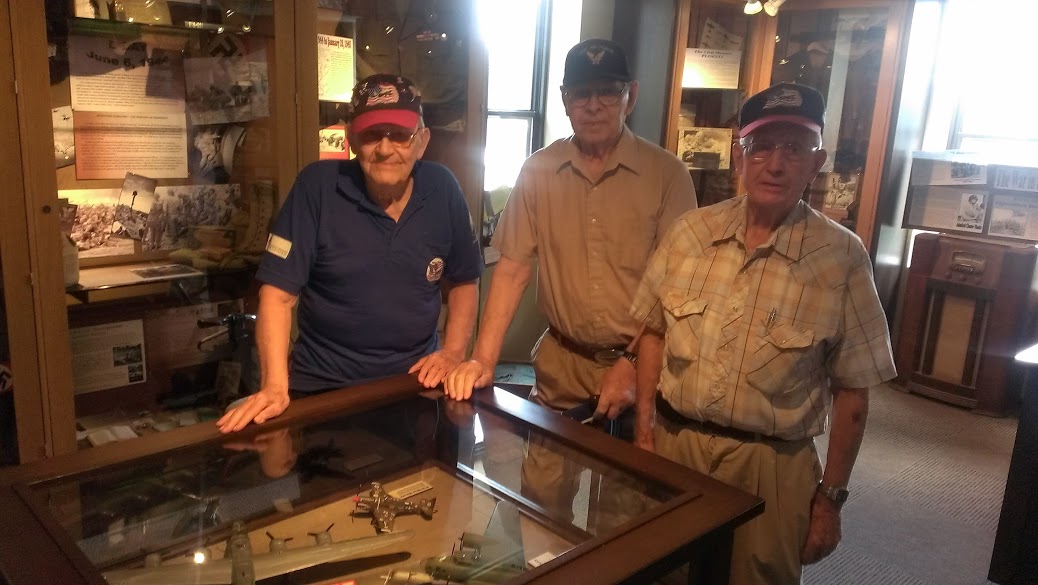 Three Luverne veterans visit the Herreid Military Museum. Left to right: Warren Herreid, Ray Anderson, Helmer Haakenson. Bob Collins | MPR News
Before leaving, Helmer Haakenson stopped at a display case with a picture of dozens of Luverne's men heading off to war. He pointed out which of them was him. "It's really something when you think about it," he said.

The 2nd battalion 205th infantry of the Minnesota National Guard in Luverne. Helmer Haakenson is sixth from the left in the front row. Bob Collins | MPR News
Though a whiskey bottle stands guard over them at the deli and bakery, there's little indication the Last Men are thinking much about possibly being the only one to have a swig from it one day.
"We don't have any control over it," Haakenson said when I asked if any one of the men wants to be the last among them.
But the day will come, and probably soon. With military precision, the Last Man's Club wrote the bylaws of the club. Article Ten dictates what will happen when eight more men die:
The Last Man will remove the Official Bottle from the cabinet and put it in front of his own place setting at the banquet table.

At the conclusion of the meal, the Last Man will unseal and open the bottle and present it to the maitre d' who will fill the glass of the Last Man. The Last Man will then propose a toast to the Members who preceded him in death, with a salute to them before taking the first drink from his glass.

At that time, the maitre d' will fill the glasses of the guests who will propose a toast to the Last Man Club, raising their glasses to those who have gone before, and finally, to the Last Man before drinking.
There are other veterans from other wars in the club. Dave Mohr is a Korean War vet, for example. Buck Underwood is a Vietnam veteran. He moved to Luverne from California, "to get away from the idiots," he says. "Now I'm with a smaller group of idiots," he laughs.
But the newcomers aren't eligible for the last toast; only the World War II vets.
There are eight more to go before one man toasts eight others who sat at Glen's recently, 15 more who once did, and Johnny Jenson and Leroy Krueger, the only two men from Luverne who didn't come home from World War II with the rest.