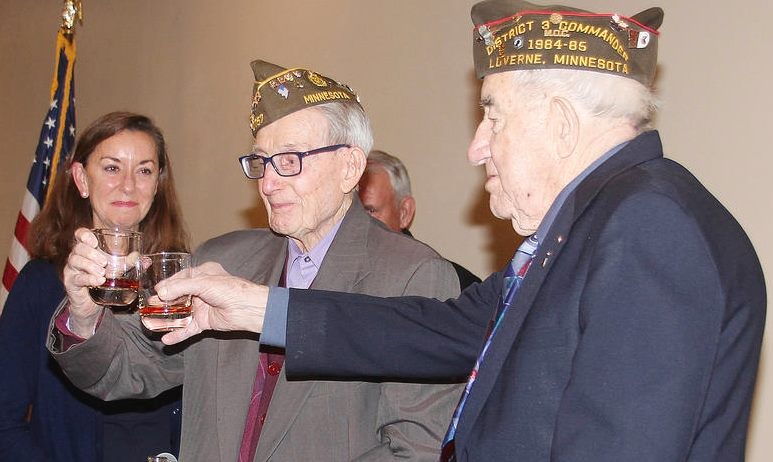 A few weeks ago in southwestern Minnesota — on Veterans Day — the last two men of Luverne's Last Man Club opened the bottle of bourbon that was supposed to be awarded to whomever of them was the only one alive.
The rules were changed in the fall when the club's founder, Warren Herreid, died and it was decided that the last man shouldn't drink alone.
And so LeRoy Luitjens and Helmer Haakenson had a bittersweet sip or two.
Mr. Luitjens died on Sunday. His funeral was held Friday morning.
His obituary appeared in the Globe of Worthington.
LeROY WILLIAM LUITJENS, age 93, of Luverne, died Sunday, November 26, 2017, at his home. He was born June 10, 1924, on a farm near Reading, to Henry and Helen (Hiedebrick) Luitjens. He attended country school near his home; and later attended Worthington High School.

LeRoy was drafted into the United States Army in November of 1944. He received his basic training in Ft. Hood, TX, and then entered the European Theatre of Operations on the day WWII ended. LeRoy served in the army of occupation in Austria.

While being stationed in Hallien, he met Margarete Sonja Prem. The couple was married on July 9, 1947, at the Salem Presbyterian Church in Reading. After their marriage, they moved to Graettinger, IA and later to Worthington. LeRoy spent most of his life in construction, beginning with Hudson Brothers, in Worthington, and later for the Christensen Corp., as a construction superintendent. The family moved to Luverne in 1961, and built a new home in 1966, where he resided for over thirty years.

He was an active member of the First Presbyterian Church, in Luverne, serving as an Elder and Trustee. He was also very active in the Veterans organizations serving as Second District American Legion Commander in 1973. LeRoy served as Third District VFW Commander in 1983. He also served many years as VFW Post 2757 Quartermaster. LeRoy was a member of the Ben Franklin Lodge Masons, serving as Worshipful Master twice, and also serving many years as Lodge Secretary.

He was High Priest of Living Arch Chapter, in Worthington, and also served several terms as Commander of Luverne Community #22. LeRoy belonged to the El Riad Shrine of Sioux Falls, SD, and was Past Commander of the Rock County Shrine Club. He served on the board of the Rock County Historical Society; and the Crippled Children's Home in Worthington. He was one of the last two surviving members of the "Last Man Standing" coffee clique.

LeRoy is survived by his two sons, Guenther Peter Luitjens, Broken Arrow, OK; and Roy Henry (Rosemary) Luitjens, Bloomington, IL; eleven grandchildren; nineteen great grandchildren; six great great grandchildren; three brothers, Henry (Ida) Luitjens, Worthington; Delbert Luitjens, Des Moines, IA; and Dennis (Colleen) Luitjens, Worthington; and two sisters, Esther Scheepstra, Worthington; and Helen Markman, Worthington.

He was preceded in death by his wife of over sixty eight years, Margarete, on June 27, 2015; an infant sister; one brother, Cecil Luitjens; and one sister, Arliss Luitjens.

Visitation will be from 4-7 pm Thursday, with a Masonic Service at 7 pm, at the Dingmann Funeral Home in Luverne; and also one hour prior to the service at the church on Friday. Funeral will be 11:30 am Friday at the First Presbyterian Church, in Luverne, officiated by Pastor Jason Cunningham. Burial with full military honors will be in the Worthington Memorial Garden cemetery.
(h/t: Crystal Brakke)