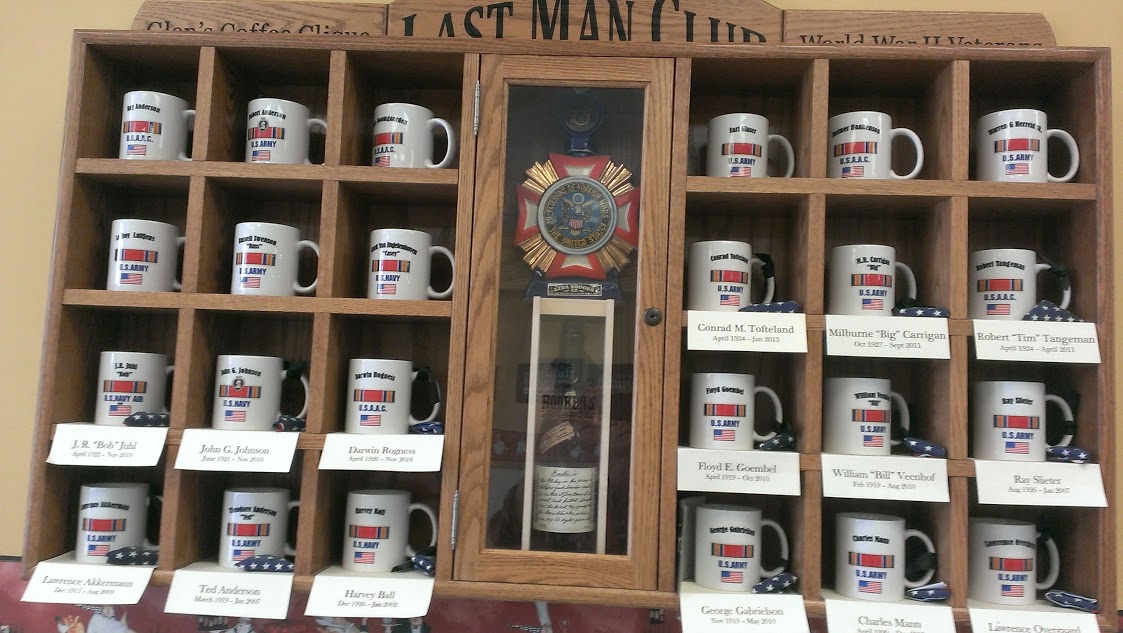 Luverne's famed bottle of bourbon is no more. Neither is the famed Glen's Coffee Clique Last Man Club.
The last two living members — World War II veterans — opened the bottle and toasted their dead friends, the Globe of Worthington says.
The bottle has been on the wall at the local grocery store since 2010, when Warren Herreid Sr. started the club. As each member died, a small American flag — perfectly folded, of course — was placed alongside a coffee mug.
When Herreid died last month, only two men were left, and on the day of his funeral, the remaining members changed the bylaws to require the toast when there was someone else for the "last man" to share it with.
Helmer "Haaky" Haakenson, 98, and LeRoy Luitjens, 93, are the only two left.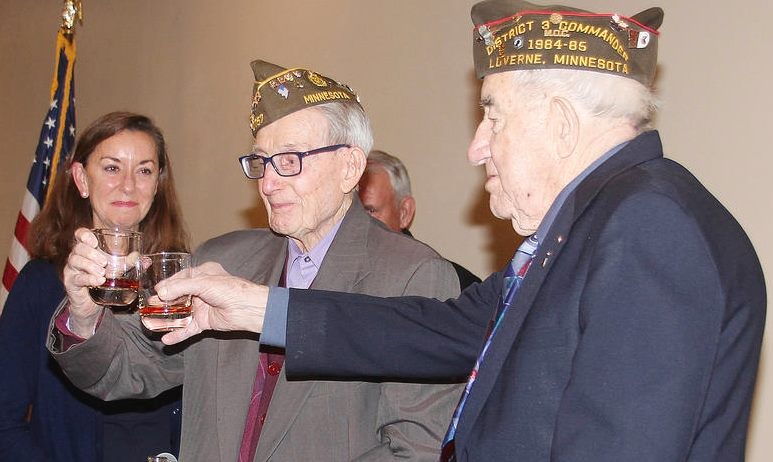 "They are with us in spirit," Luitjens said last weekend. "We will never forget the hours spent together at our Glen's Coffee Clique, cherishing the stories, knowledge and wisdom they shared with us over the years. We salute you, comrades."
He and Haakenson clicked their glasses and that was that.
Former Gov. Tim Pawlenty — his wife, Mary, had once invited the club to the Governor's Mansion — toasted the men.
The former governor also shared with the audience a letter written to Haakenson and Luitjens by documentary filmmaker and historian Ken Burns, who chose Luverne for his red-carpet premiere of his documentary, "The War."

The letter read: "Dear Mr. Haakenson and Mr. Luitjens, The decision to open the final bottle together reminds us that every gathering has been a reunion. Today we join in the memory of the 24 founding members of the Last Man Standing Club. We stand two among the many others who have passed in the years since the war and those lost in combat.

"One of the veterans who appeared in our film, and who knew a thing or two about life in Luverne, explained, 'It's hard to understand why the guy next to you was blown apart and why you're able to go ahead and have a wonderful life.'

"It's impossible to understand, but we can remember them. History has a way of staying the same and changing. We grow older, but remember like yesterday the feelings of youth. So we gather to remember. All reunions are about memory, about the community that we are part of, but also the people who are no longer with us.

"I congratulate you on this occasion, Veterans Day, and the symbolic opening of the bottle. I thank you for your service and applaud you for what you continue to teach us about patriotism and friendship. Best regards, Ken Burns."