It's been a pretty good World Series so far with some strange and memorable plays. But baseball is doing a fair job with its in-game breaks to raise awareness of some causes, too.
Last night, for example, it was Stand Up To Cancer, in which everyone in the stadium — fans, players, umpires, and broadcasters — held up a placard with the name of someone affected by cancer. It was a pretty sweet and poignant moment.
Moments before he hit his game-deciding homerun, Red Sox player Jonny Gomes held up two placards — one for his late high school coach, the other one was for a 5-year-old fan.
Even the cameraman had a sign, honoring a cameraman for the San Francisco Giants.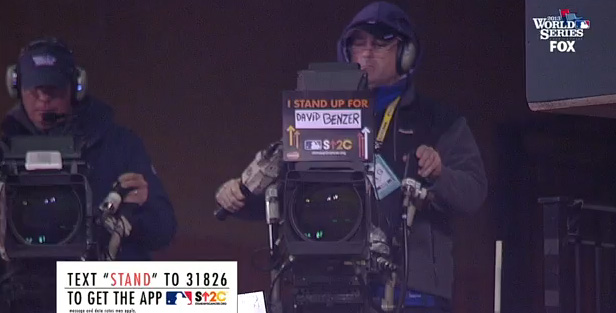 But, unlike football's "breast cancer awareness" effort, which merely involves players wearing some pink garb, the SU2C campaign appears to make a significant difference.
"One Dream Team, working on pancreatic cancer, has changed our understanding about how pancreatic cancer grows," Dr. Arnold Levine, vice chairman of the Scientific Advisory Committee of SU2C, said. "About how these cells multiply and divide.

What chemical substances they use. We thought it was glucose. It turns out to be a different chemical substance called glutamine, an amino acid. It changes the way you want to treat the disease, it changes the way you want to detect the disease and it changes our understanding of what's happening in the cancer cell itself.

"That's a big change in just two or three years of research. Now new drugs can be developed because of this, and new methods of detection of pancreatic cancer can be developed. So that has been a huge success, in my opinion.

"It's a cancer with a very high death rate, and the reason is [that] it is detected so late. It's like ovarian cancer. And we've learned new things about ovarian cancer, about breast cancer. There has been a whole opening of new ideas and directions, and what's really remarkable is, the resources are sufficient to test ideas, from the laboratory to the clinic."
Still, the effort is plagued by the same one that plagues many businesses who are involved in charitable causes: the sense that it's at least a little bit about making money in addition to making a difference.
MasterCard, one of baseball's sponsors, debuted an ad during the broadcast highlighting its goal to raise $4 million for Stand Up To Cancer. It comes with strings attached. If you spend $10 on a meal, for which you pay using your MasterCard, the credit-card company will make a donation.
That's not true charity, of course, because true charity doesn't come with strings attached. But it's better than doing nothing.