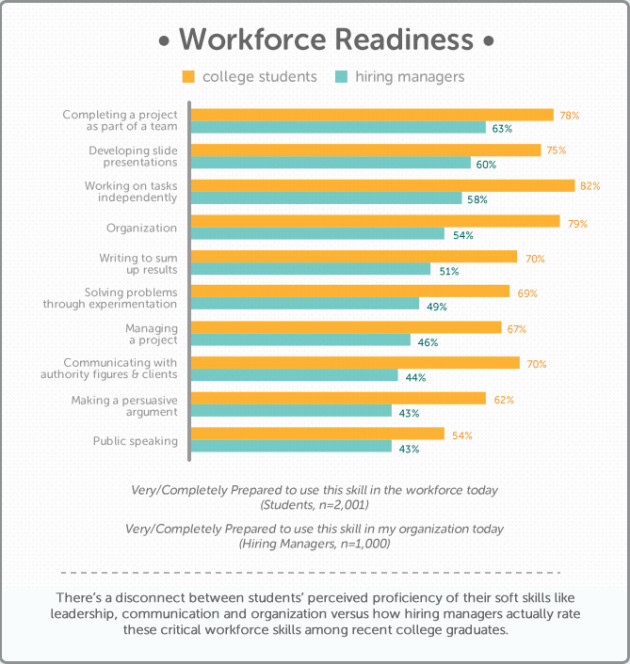 Apparently, we have a failure to agree on whether college graduates are as ready to go to work as they think they are.
The Wall St. Journal reports on a survey of both college students and hiring managers that finds they're not on the same page.
Students and hiring managers are most aligned when it comes to assessing how well recent graduates make decisions without having all the facts, though that's mostly because students agree they're incapable of handling such ambiguity—47% of students say they're job-ready on that front, while 37% of recruiters agree.

"The notion that college graduates exit universities and lack the ability to clearly organize and communicate information suggests institutions are failing to meet their mandate of forming critical thinkers," according to the report's author. In tandem with the release of the survey findings, Chegg is publishing a series of videos and career-readiness tip sheets for students.

The survey also measured what Chegg calls "office street smarts," which include such skills as collaboration, managing up and making persuasive arguments. Once again, students painted a rosier picture than did hiring managers. The biggest mismatch came in students' ability to communicate with bosses and clients—70% of students thought they were primed for the challenge; only 44% of recruiters agreed.
Science, technology, engineering, and math (STEM) students are generally better prepared for work, the survey said. And both managers and students agreed that they have mastered technical skills.
It's the "office smarts" area where hiring managers think graduating students come up short:
1. Can graduates make a persuasive argument to convince others to adopt their ideas?
2. Can they write to encourage action or make a specific request?
3. Were they able to communicate with authority figures and clients?
4. Can they collaborate with people from diverse backgrounds?
5. Can they complete a project as part of a team?
Why the gap? The survey pointed to the list of what college students do when not doing schoolwork:
Socializing with friends (49%)
Working at a job not related to their field of study (31%)
Working out (29%)
Extracurricular activities not related to their field of study (22%)
Volunteering (15%)
Working at a job related to their field of study (14%)
Extracurricular activities related to their field of study (11%)
Working in an internship related to their field of study (8%)
Attending networking events (2%)
Working in an internship not related to their field of study (1%)
Parents should emphasize the importance of extra-curricular learning and project opportunities while students are still in school, the authors of the report said.