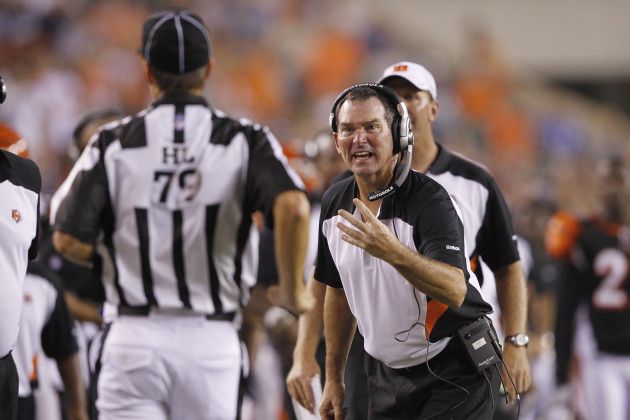 Give credit to Minnesota Vikings fans. Few other teams' fans do more with a little hope than them. On social media this afternoon, Vikings fans appear to be riding high (by whatever definition you want to ascribe to that phrase) after the team apparently cut a deal for a new coach. Mike Zimmer, the defensive coordinator of the Cincinnati Bengals, will replace Leslie Frazier. He's described as a no-nonsense coach, which is a good thing since the Vikings have plenty of nonsense. He also specializes in a particular deficiency — defense.
But it got even better for Vikings fans, who noticed the team still needs someone to coach an offense with the best running back in football and a wide receiver who soon will be among the best. That's when it was leaked that the Vikings have asked permission to talk to Cleveland Browns offensive coordinator Norv Turner, who worked with Zimmer in Dallas.
Turner, however, has been rumored to being pursued by some other teams, too.
"Under Turner, the Browns finished 18th in total offense, but more importantly were 11th in passing offense despite the team's quarterback struggles," SB Nation points out.
Now if the Vikings only had a quarterback.
Good things come in threes today, though. Self-described NFL draft expert Mel Kiper's mock NFL rookie draft has the team taking Louisville quarterback Teddy Bridgewater. Says the Daily Norseman:
…the guy that several NFL teams were allegedly supposed to dump the entire 2013 season for. . .falling right into Minnesota's lap with the eighth overall pick. The entire draft is behind the ESPN In$ider paywall, but I can tell you what he had to say about this selection.

In terms of his ability as a passer, Bridgewater could go higher. But while I currently have him rated as the top QB on my Big Board, Bridgewater will need to prove to teams that he can command an NFL huddle and be the face of a franchise. I think he has the necessary physical tools to succeed, and shows an advanced approach with his footwork, anticipation, pre-snap command and ability to improvise. He's a very good value here for a team with a huge need at the position. Whether he can start right away is a question we'll need more time to answer.

Kiper has Bridgewater as his third quarterback off the board (despite him being the top quarterback on his "Big Board"). He has Texas A&M's Johnny Manziel going #1 overall to the Houston Texans and Central Florida's Blake Bortles going at #4 overall to the Cleveland Browns.

In the interest of full disclosure. . .I don't think there's a snowball's chance that this happens. But it would be pretty cool if it did, wouldn't it?
Only seven months until training camp.