1) TILSEN EXPLAINS HIS SUIT
In an op-ed in the Star Tribune today, one of the people who has filed suit to stop the state financing of the new Minnesota Vikings stadium says the project has been "tainted by undue influence by billionaires," and says no one is representing the interests of taxpayers.
Minneapolis resident David Tilsen said city law requires a vote of residents for any expenditure on sports stadiums over $15 million. "But the city found a way around it," he writes, in diverting funds from the Minnesota Convention Center.
The Legislature tied itself in knots over this issue. Legislators were reluctant to override charter provisions passed overwhelmingly by the voters twice, but were told by the Minnesota Vikings that a referendum on the issue would not pass in Minneapolis. Under my naive understanding of democracy, the whole thing should have ended there. If the people we are asking to pay for it don't want it, then we won't do it.

Unfortunately, the power of a billionaire, the will of the governor, the persistence of the mayor, and the face paint and horns of the fans led the Legislature astray.

The bill required Minneapolis to levy a sales tax and pay a third of the cost of bonds sold by the state. City officials were assured by the Minneapolis city attorney and the lawyers for the lobbyists that this was legal and constitutional. The truth is, it isn't.

The Minnesota Constitution does not allow a home rule charter to be overruled in a special law, and the stadium legislation is indeed a special law.
Tilsen says his group didn't wait until the last minute to file the suit. "We have been stymied for over a year," he said.
Related: The Metrodome is just as ugly as we remember.
This week, people have been lining up for two hours to pick up Metrodome seats, which actually can't be used for anything since they don't have legs. But let's be honest, people: You got the seats so you could drive inside the Metrodome. The seats will be in next week's trash pickup.
2) SPORTSMANSHIP: LEARNING FROM KIDS
At a game in Fargo last Saturday, the Fergus Falls, the Bantam B goalie got sick just before the team's game with White Bear Lake. The team didn't have another goalie, so a defenseman, Bryce McGary, who's never played goalie before, put on the pads and equipment and gave it a go.
How do you learn how to play goalie? After seeing his opponent give up 5 goals in the first period, Tyler Jensen — the goalie for White Bear Lake — gave him some quick lessons between periods.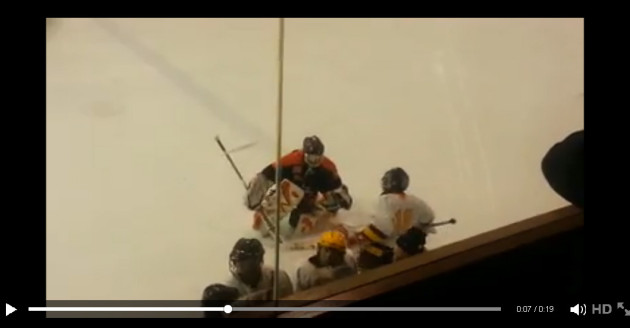 White Bear Lake won the game 9-0.
(h/t: Bryan Reynolds)
3) STAINED GLASS: IT'S NOT JUST FOR CHURCHES ANYMORE
Who knew the largest stained-glass maker in the United States is based in Winona? It still will be, even though Willet Hauser has been sold to a Phoenix company, Minneapolis St. Paul Business Journal reports.
Is there a big market for stained glass? Big enough. The company says it wants to grow business at the firm, which employs about 70 people.
More business: Doran submits demolition requests for Dinkytown properties (The Minnesota Daily).
Hal Faulkner, the former Marine who just wanted an honorable discharge before he died, has died, NPR reports. Faulkner's crime against the Marines? He's gay.
The repeal of "Don't Ask, Don't Tell" made it possible for the 79 year old, who served in the Philippines, to realize his dream. There are still thousands like him who haven't gotten their due.
Couldn't get enough BatKid? Make A Wish has just released a behind-the-scenes video on last fall's day in San Francisco in which a young man who'd overcome cancer got to be a crimefighter for a day.
Bonus I: Ellen Degeneres gave cruise tickets to four firefighters from Massachusetts who risked their lives to save a dog. Now, they have to send them back because of state ethics laws which can't discriminate between the politicians who are legally bribed by campaign contributions, and the firefighters who did a good deed. Why, the next thing you know, firefighters will start rescuing dogs just to go on a cruise.
Bonus II: It's Vehicular Cyclists Day. A day when cyclists and motorists can all get along. (streets.mn).
Bonus III: Billy McGill: How top NBA draft pick ended up homeless (BBC).
TODAY'S QUESTION
Should public schools randomly drug test students?
WHAT WE'RE DOING
Daily Circuit (9-12 p.m.) – First hour: Previewing President Obama's speech on the NSA.
Second hour: What if exercise cures everything?
Third hour: The Notable Book series continues with David Finkel, author of "Thank You for your Service."
MPR News Presents (12-1 pm) – Christine Lagarde, head of the International Monetary Fund, speaking at the National Press Club.
The Takeaway (1-2 p.m.) – TBA
All Things Considered (3-6:30 p.m.) – MPR's Dan Olson profiles avid Minnesota "hard water" angler Christopher Smith on a visit to Circle Pines and an outing on Golden Park Lake, exploring this most Minnesotan of activities and a challenging one to explain to outsiders.
The latest threat to spotted owls and their habitat is not humans. It's another type of owl. One possible solution is to shoot the other owls. But at what point should nature run its course? NPR will have the story.