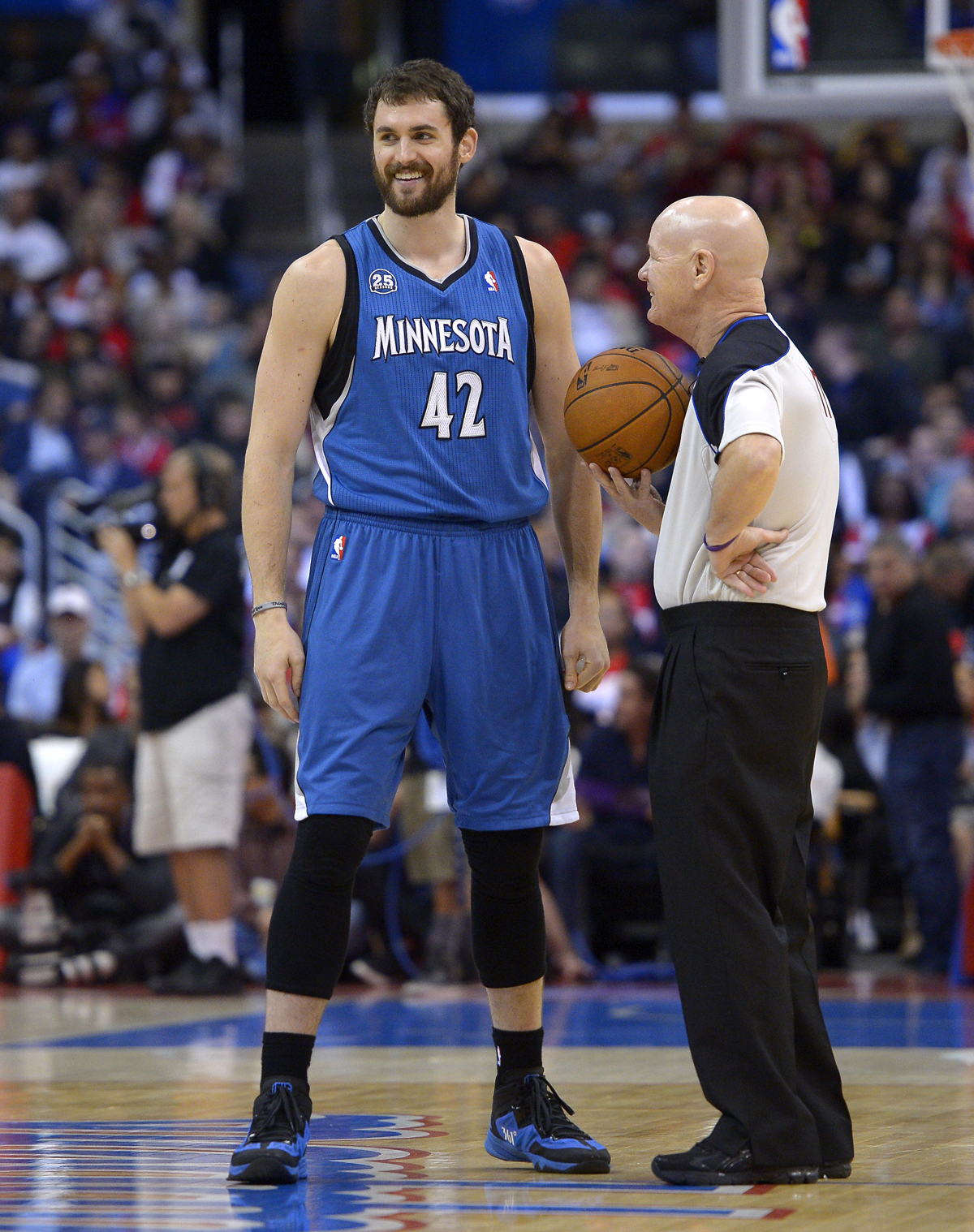 Kevin Love can come forward any minute now and say "I don't want to leave Minnesota."
Any… minute… now, Kevin.
Kevin?
ESPN reported over the weekend that its unnamed sources — likely Love or his agent — have informed the Minnesota Timberwolves not to bother trying to sign Love to a contract extension because he intends to opt out of his contract at the end of the upcoming season.
Although sources say Love has stopped short of demanding a trade, his position could effectively force the Timberwolves to deal the All-Star forward before next season — or before the trade deadline in February 2015 at the latest — if they hope to dodge the risk of losing him without compensation.

The Timberwolves, at the behest of owner Glen Taylor, have rebuffed all trade interest in Love for months, resisting all trade offers for his franchise player until, as one source put it, he "has no choice."

Teams around the league are increasingly expected to test that resolve once the lottery order is established, and the Associated Press reports that amid growing concern, that stance has softened somewhat.
The report said the Chicago Bulls and Golden State Warriors are two teams that Love might be interested in being traded to.
The Timberwolves noted that Love can make a lot more money here than somewhere else.
The Wolves cannot talk to Love about extending his contract until January 2015, at which point they are allowed to offer him a two-year extension. If he chooses to not accept that extension and Love does indeed choose to opt out of his current deal, the Wolves will have the opportunity to begin negotiating with Love in July 2015. Through the league's Collective Bargaining Agreement, the Wolves have Bird Rights when it comes to Love's contract and can offer him $26 million more over the life of his next contract than any other team in the league.
But Love has all the money he needs and you only live once. Why spend your career playing for a basket-case franchise.
Timberwolves owner Glen Taylor reiterated on Sunday that the team doesn't intend to trade Love. But while Taylor isn't used to not being in the driver's seat, he didn't get rich by not seeing the obvious.
According to Sports Illustrated…
The Timberwolves have plenty of time to weigh their options here, and there's no need to rush into a panic trade. That said, Saunders spent up most of their flexibility with a series of big dollar deals last summer that failed to move them into playoff positioning.

It's therefore difficult to blame Love if he's gazing around for greener pastures at this point, and Minnesota must face the facts about the situation: stars want to win, the Timberwolves haven't won in a decade, and Love owes the organization no favors after his last round of contract negotiations were badly mishandled. Soliciting trade offers — and maybe even setting off a bidding war — is the right move for the Timberwolves at this point, even if it doesn't necessarily result in a deal this summer.
Where else could Love go? Boston, which has draft picks and a few players to trade. Boston.com says it's a good fit:
The good news for Ainge though is that he's built himself quite the treasure chest of trade assets in the past couple seasons. The Celtics have nine first round draft picks over the next five seasons, a $10 million dollar trade exception, a pool of young talent, and a number of unguaranteed contracts that could help facilitate any deal.

The combination of these trade chips makes it likely the Celtics will be able to outbid any other team for the services of Love and still improve other parts of the roster with whatever assets that remain.
And the Celtics and Timberwolves have been down this path together before, when Kevin Garnett pushed his way out of town in the interest of winning a championship.
That worked out well for the locals.