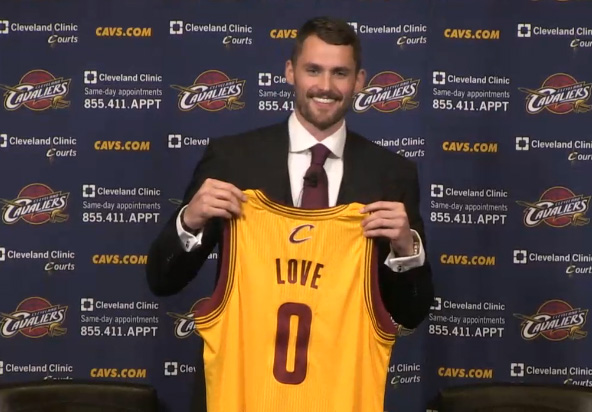 While the new Minnesota Timberwolves were enthralling fans at the Minnesota State Fair today, the Cleveland sports media welcomed Kevin Love, the first time Love has spoken since he forced a trade from the Timberwolves.
"It means a lot," he said. "LeBron had signed to come back with the Cleveland Cavaliers and just a few hours later he called me and I said, 'You know what? I'm in.'"
Then, appropriately, an Associated Press reporter took on the role previously held by a counterpart in Minnesota. "How long are you going to stay?" he asked.
"That's something that hasn't been talked about," said Love, who can be a free agent next year. "I'm committed to this team and committed long term to the end goal of winning championships and a championship here in Ohio."
Love didn't have much to say about Minnesota, although he was asked what it's been like to play in the league without making the playoffs. He didn't take the obvious bait for a parting shot.
"I think it will be somewhat of an adjustment playing in the playoffs. I need to mentally prepare myself for playing into June," he said. "Saying I didn't enjoy my time in Minneapolis wouldn't be right. I loved my time there. The fans showed up win, lose, or draw. It was a great six years and I enjoyed my time and I can't say enough good things about it."
Asked by a Minnesota reporter how he wanted to be remembered in the state, Love said, "Just as a guy who worked extremely hard, was good to the community, tried to fit into that 'Minnesota Nice' lifestyle. I know we had some rocky moments, but I hope they'll look at the good times."
He said he left the task of telling Timberwolves boss Flip Saunders that he wanted out of Minnesota to his agent, and then said "I don't know" when he was asked when the message was delivered.
In talking about his new teammate LeBron James' hometown, Love mispronounced Akron. Rookie mistake