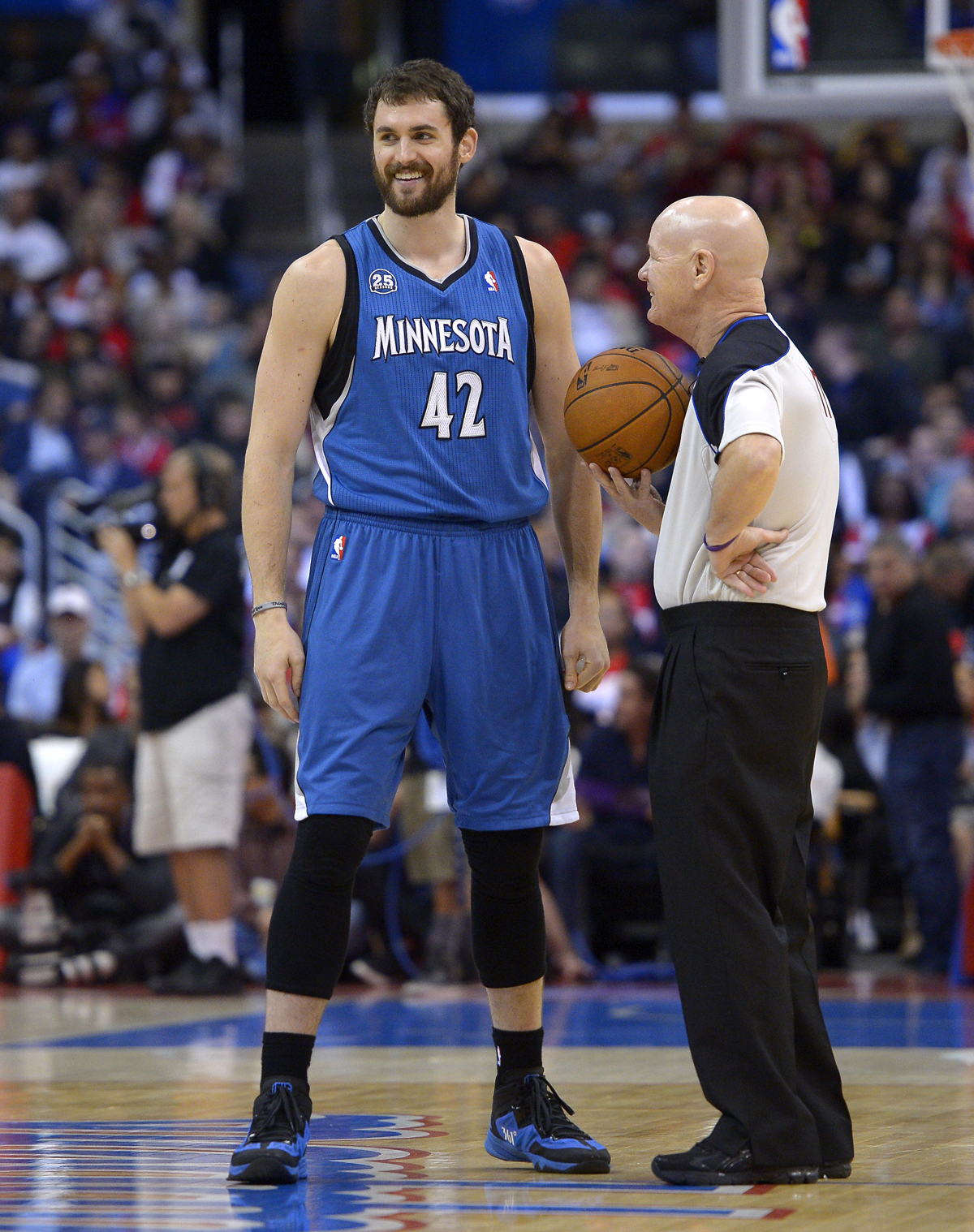 Yahoo Sports' Adrian Wojnarowski, who may be as tight with Kevin Love as anyone, is reporting the worst-kept secret in Minnesota sports: Kevin Love has been traded.
What's new in the report, however, is how much money Love will make.
Wojnarowski says Love has agreed to sign a contract extension for five years and $120 million. Nice numbers!
In 2008, when he was far from one of the best players in the league, Love signed a contract extension with the Minnesota Timberwolves for four years and $60 million, and he had the option of opting out after three years, which, of course, he has done.
He would've made about $16 million this year with the Timberwolves. With his contract extension, he'll average $24 million a season and play on a team that wins. What a jerk, eh?
The Timberwolves had a little leverage with Love. They could have paid him more money than other teams, according to Real GM.
From there, we can figure out what the difference in raises could mean in actual dollars. The team holding Love's Bird rights can offer max raises of 7.5% of that first year salary each future year while all other teams can only offer 4.5% increases off that same salary. In Love's case, this works out to a difference of $3,214,033 over a four-year contract. Not a small number but clearly not insurmountable either.

The larger difference comes from the potential for a fifth season. In Love's case, this makes the comparison between a four-year deal worth approximately $70,611,609 with a new team (likely with the fourth season coming as a player option like Dwight Howard) compared to a five-year deal with a similar final year player option worth a total of $95,867,581.

While that difference seems large at the moment, we should remember that Love will be 30 years old when that fifth-year likely comes into play and 29 if he declines the fifth-year player option, so with clean health and quality play he can fairly expect to get close to that value on his fourth contract. It reduces a risk to be sure but may not make a huge long-term difference if things go well.
That he got $25 million more than the predicted contract is an indication of how badly Cleveland wanted to overpay in the final year(s) of the deal.
Love, having spurned Minnesota, now takes his place in the long line of vilified Minnesota athletes. But basketball is a business, and Love and his agent played their hand perfectly.
Minnesota fans have been indoctrinated to believe that the team is better off without Love. But Love will likely win a championship in Cleveland. Andrew Wiggins, the first-overall pick in the recent NBA draft, who is coming to Minnesota in the trade for Love, will not be winning one in a Minnesota uniform.
Love ends up a richer man who doesn't lose basketball games every night.
Our relatively simple projection system has Cleveland at 65-17 with Love + LeBron: http://t.co/Ps395HhWYC

— Nate Silver (@NateSilver538) August 7, 2014