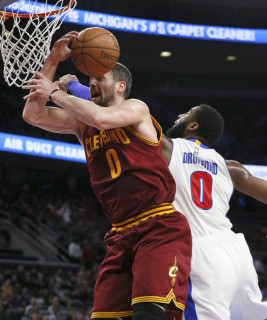 Former Minnesota Timberwolves star Kevin Love returns Saturday night to the state he spurned when the Cleveland Cavaliers make their one and only appearance at Target Center.
On Thursday, the T-Wolves released a video promoting the game, leaving Love out and promoting the return of former Timberwolf Mike Miller.
That should show you, eh Kevin Love?
"That's hilarious," Love said today. "I thought it was really funny … For them to do that, it was pretty good. The T-Wolves P.R. has always been very funny, unlike ours here now. I thought they did a very good job."
Nice shot at his own organization there.
"I was waiting for it, waiting for it and it turned to Mike Miller," he said followed with a laugh, the Cleveland Plain Dealer says. "That was pretty good."
He doesn't expect a warm reception.
"I'm sure once I get there it will be a little different feeling for me. Obviously playing on the visitor's side, going in the visitor's locker room. Going to the different bench, but I haven't really given it too much thought."
The man knows how to get under our skin. Nothing can frustrate us more than someone is ignoring us.
Related: When Love comes to town (MinnPost).