In Massachusetts, this billboard got people all stirred up this week.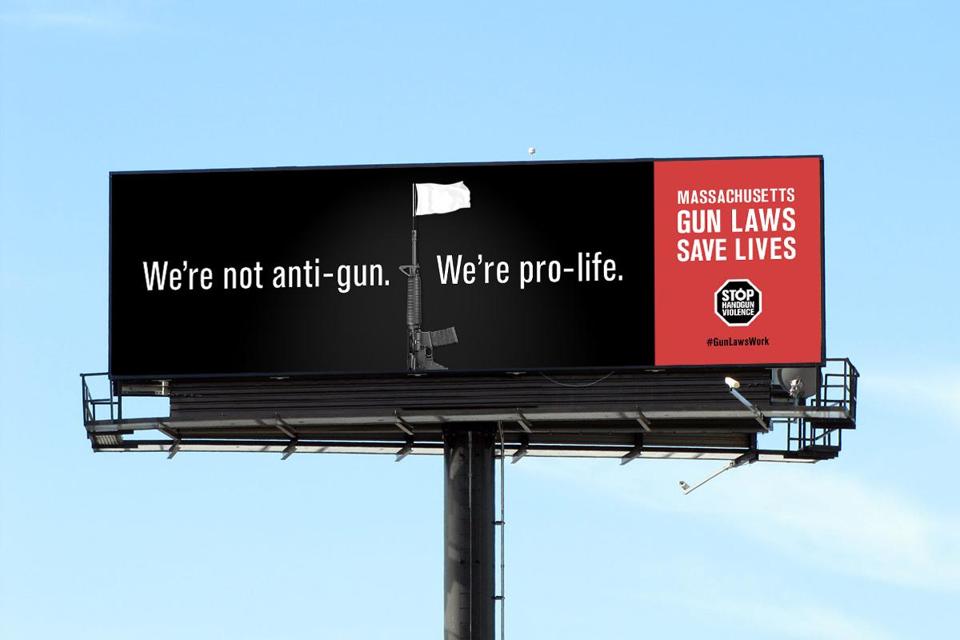 Clear Channel had donated the billboard to Stop Handgun Violence.
But under pressure from gun rights advocates, they're coming down, the Boston Globe reports today.
"I'm certainly glad they have decided to pull the ads. I hope they're doing it for the right reasons," said Jim Wallace, executive director of the Gun Owners' Action League, calling the ads "inaccurate and misleading."
The company said Clear Channel viewed the billboards as a legitimate part of its "social responsibility" program.
Peter Ubertaccio, director of The Joseph Martin Institute for Law and Society at Stonehill College, said it's "hard to imagine" that Clear Channel didn't see this controversy on the horizon when it agreed to run the ads.

"I don't know how you could arrive at any other conclusion, or fail to see that it's fairly controversial," he said.

Ubertaccio said gun rights are such a contested issue that even trying to get into the conversation from a public health perspective invites a lot of political sentiments.

"There is a way to thread that needle to talk about firearm safety," he said. "But very few conversations about guns don't have political overtones, and they become heightened because of the Second Amendment and public policy making."

Wallace, of the Gun Owners' Action League, said there are other ways to advocate for gun safety.

"In the future, if they want to put ads out about firearm safety — how to properly store a gun or get the right training — we would work with them on that."