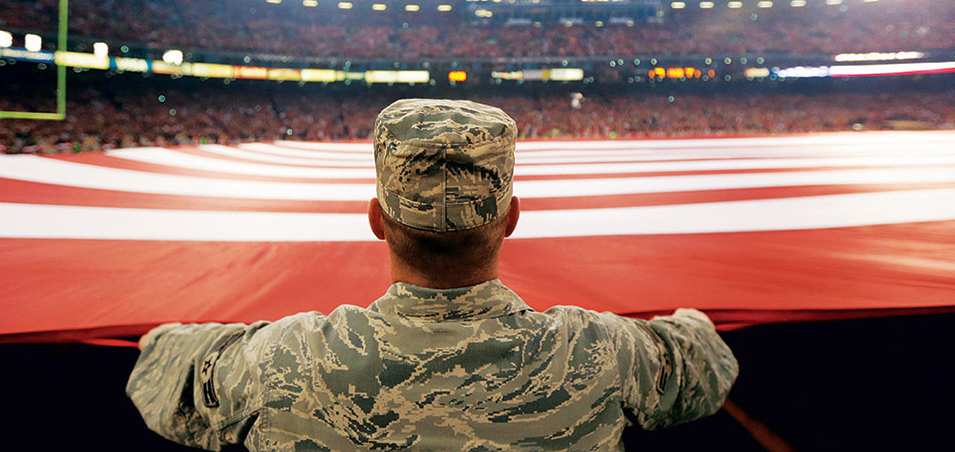 The entwining of the military with professional sports is all about the money, a story out today says.
Most every professional sports team spends an inordinate amount of time honoring members of the military and up to now it has seemed more marketing than gratitude. Now it may even be more perverse.
It's about money, the Newark Star Ledger reports. The Department of Defense has paid National Football League teams — $377,000 in the case of the New York Jets — to honor soldiers on the Jumbotron. Overall, the Defense Department has paid 14 NFL teams $5.4 million from 2011 to 2014, most of which was paid by the National Guard.
U.S. Sen. Jeff Flake (R-Ariz.), who routinely posts examples of what he calls wasteful spending, called out the Jets' agreement as wasteful and disingenuous.

"Those of us go to sporting events and see them honoring the heroes," Flake said in an interview. "You get a good feeling in your heart. Then to find out they're doing it because they're compensated for it, it leaves you underwhelmed. It seems a little unseemly."

The agreement includes the Hometown Hero segment, in which the Jets feature a soldier or two on the big screen, announce their names and ask the crowd to thank them for their service. The soldiers and three friends also get seats in the Coaches Club for the game.

"They realize the public believes they're doing it as a public service or a sense of patriotism," Flake said. "It leaves a bad taste in your mouth."
The report says the Vikings have pulled in more than $600,000 by "honoring" service members — about the same amount as the Packers.
(h/t: Ben Chorn)
Related: Too much 'thank you for your service'? (NewsCut)