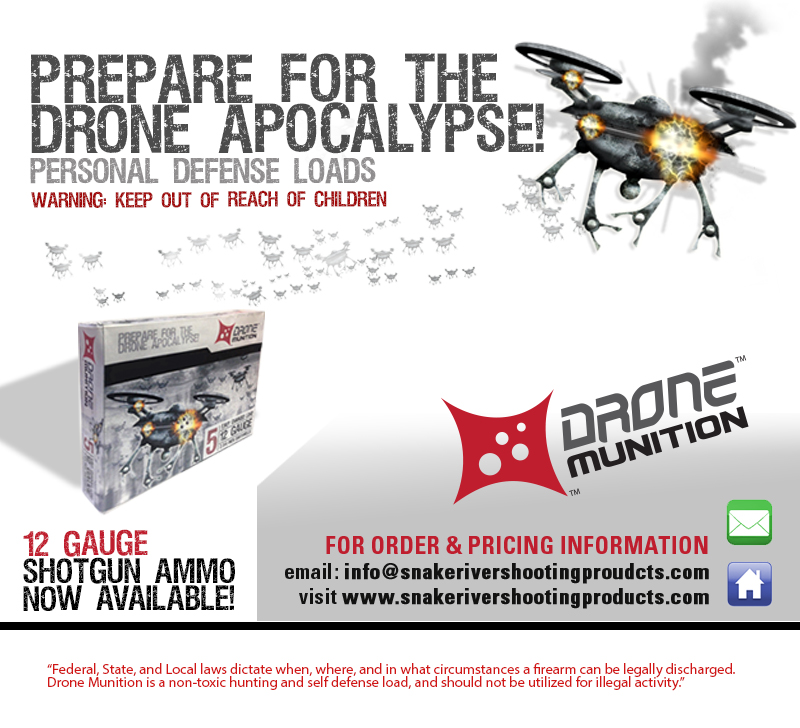 Snake River Shooting Products and Consulting Inc., has unveiled ammunition specifically designed to shoot down drones.
The 12-gauge shotgun ammo is billed as a means of self-defense, according to the company's release.
The Drone Munition brand provides a cost effective solution for self defense as the Federal Government and States scramble to take action.

Self defense applies whether it is a person based or machine based threat and is just as important as protecting your family!

Our shot shell solutions provide a cost effective way to do just that! From standard lead free solutions to electronic defeating loads (coming soon), and extended range platform, we have the products to defend against the most sophisticated tech!

As responsible drone owners ourselves, we recognize the largest threat to responsible drone fliers are irresponsible drone fliers! Drone Munition is also a fantastic hunting load for small game, waterfowl, and turkeys!
The company appears to have been at least partially inspired by William Meredith, of Hillview, Ky., who shot down a drone over his sunbathing daughter, a claim the drone operator disputes.
"We see this line as a game changer in the industry and as an important defense against rising threats to our way of life," the company's president, Casey Betzold, said.
Shooting down a drone is illegal in many places.
(h/t: Will Lager)