The forthcoming issue of ESPN the Magazine has a fascinating inside look at Minnesota Timberwolves legend Kevin Garnett and the things that make him tick. And, for once, we understand why the NBA fossil is so slow to retire. Standing outside his house telling kids to get off his lawn will never provide the same outlet for the wrath he unleashes on teammates and competitors.
It is so ferocious, apparently, that Celtics general manager Denny Ainge was careful about exposing his younger players to Garnett's — as they say on the sports pages — intensity.
"It was a little scary to have KG around [a younger player]. His work ethic was unquestioned, but he could be intimidating — and destructive — if the player didn't respond in the right way," Ainge said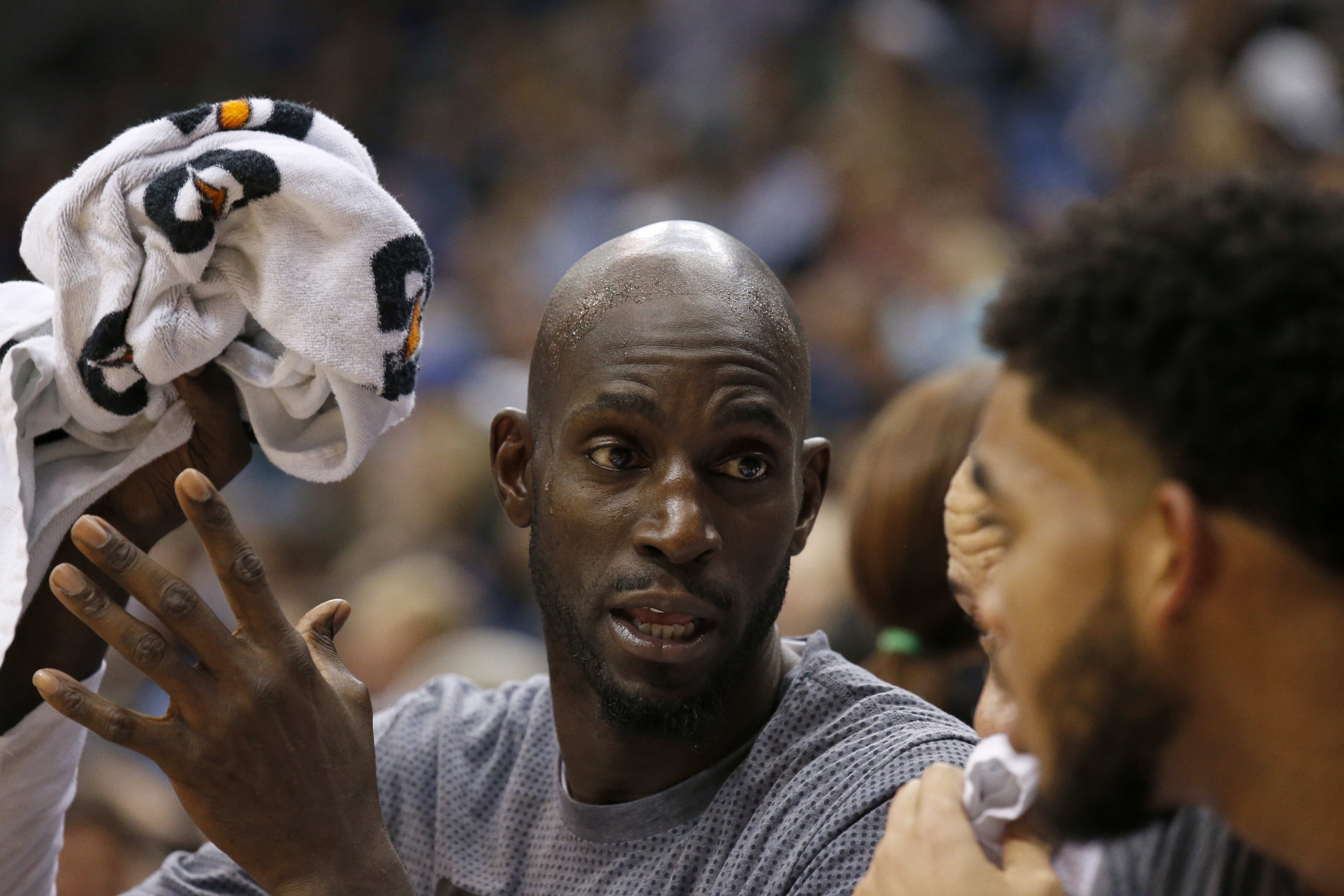 The subject comes up because Garnett is now in charge of bringing up baby for the Timberwolves — first-round draft pick Karl-Anthony Towns, who is an obvious star already.
"Just because someone doesn't play with the same fire as KG, it doesn't mean they're soft," former teammate Chauncey Billups says. "It also doesn't mean they don't care, but in KG's raving, crazy mind, that's how he sees it. If he sees something one time, that's what he believes in, no matter what. That's not always great for a leader, I admit that, but that's who he is."
They linger most days after practice, because there is still so much to be done, so much to learn. One day the focus is on honing the prized elbow jumper; Garnett implores the rookie to take hundreds — no, thousands — of shots until it becomes second nature.

The next day, it's pump fakes and misdirections that will provide Towns with a straight line to the basket. There are countless drills for footwork, including one Garnett invented that requires players to maneuver around shoes pointed at various angles to mimic the opponent's defensive position.

"Attack the feet!" KG bellows, the line between mentor and coach graying by the instruction. "Attack the feet!" When Newton peeks in on these post-practice tutorials, he smiles. "School's in session," he says.

Sometimes the other players hang around, watching Towns perfect a drop-step that will emerge in the next scrimmage. "Whatever KG tells me to do," Towns says, "I'm going to do it."

Kevin Garnett's time as an NBA superstar is all but over. He says he's finally content with that. After 39 years, he might well have discovered a way to channel his knowledge and white-hot ferocity — here, in the gym, his boundless energy matched only by a 20-year-old phenom mirroring his every move.
The story is a trip down Memory Lane with a right turn at What Might Have Been Boulevard, for it recounts Stephon Marbury's unwillingness to play second banana to Garnett's greatness, a fact that led to the dismantling of a championship-caliber team and, eventually, the trade of Garnett to Boston, where he won an NBA championship.
The banner for that championship — and 16 others — sits in Boston. But even with the success he found there, Garnett will always be ours.
There are a lot of players in the NBA, but there aren't a lot of players like Kevin Garnett. https://t.co/7RMr28Nbfb

— Timberwolves (@Timberwolves) November 25, 2015