As you might have heard, today is primary day in Wisconsin. Voters who have the proper ID can participate.
And therein lies the problem, the New York Times expertly describes in its editorial today on how Wisconsin did its part to suppress voting.
Unlike Minnesota, Wisconsin was able to pass a voter ID law, despite proof that voter fraud was a non-existent problem.
The politicians rejected the assertion that it was a cynical attempt to keep some people from voting.
In today's editorial, the Times connects the dots.
In 2014, Lynn Adelman, a federal district judge in Wisconsin, struck down the law after finding no evidence of voter fraud. He found that the law would most likely disenfranchise poor and minority voters, who disproportionately lack the required ID, and "will prevent more legitimate votes from being cast than fraudulent votes."

But a federal appeals court inexplicably reversed that decision and the Supreme Court declined to hear the case last year, allowing the law to go into effect.

The problem, as Judge Adelman and others have documented again and again and again, is that voter-ID laws are a destructive solution to a nonexistent problem.

If there were any doubts about the bad faith of these laws, consider this: The Wisconsin law requires the state to educate voters about acceptable forms of ID and how to secure them — a particularly important public service for the roughly 300,000 state residents estimated not to have the proper ID.

But despite requests from the state's nonpartisan Government Accountability Board for $300,000 to $500,000 for that effort, the Legislature provided no funding. Instead, Governor Walker signed a bill in December to dismantle the board.
Efforts to get rid of the board stem from its investigation into whether Gov. Walker illegally coordinated his campaign with outside groups.
That hasn't completely stopped the GAB from giving voter information a good try. It set up Bring It To The Ballot, a website to help voters learn what they need to do to be able to vote.
This is what greeted those potential voters earlier this morning: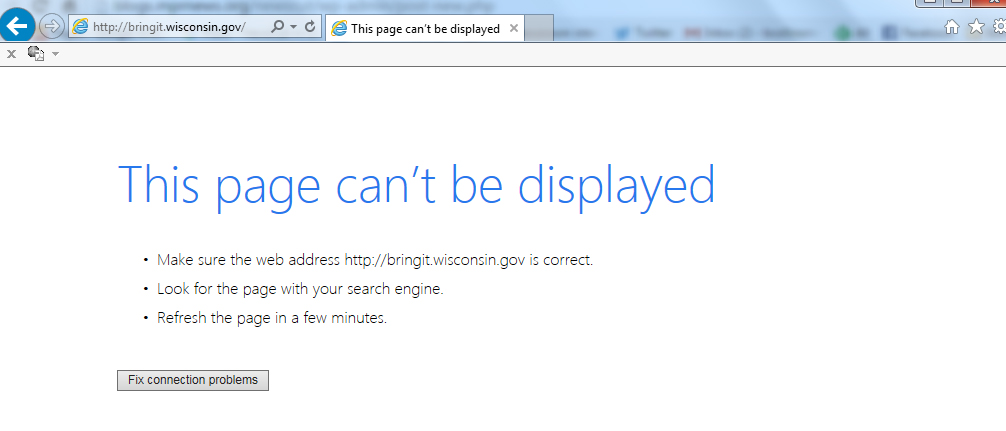 If you try enough times, eventually the page will load: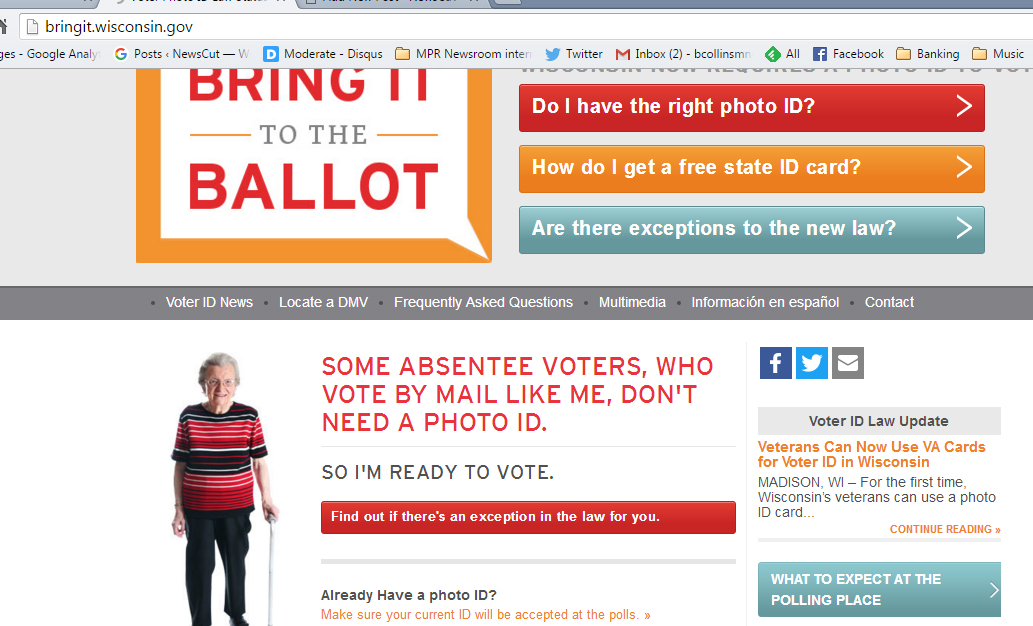 Background: Once A Symbol Of Bipartisanship, Government Accountability Board Targeted For Overhaul (Wisconsin Public Radio)
Related: Could Scott Walker's Voter ID Law Help Hillary Win Wisconsin? (Daily Beast)